Here's the latest vintage of a Kirkland wine I know many of you, like me, have been waiting for – the Kirkland Oakville Cabernet.
This is usually one of our favorites among the Napa appellations that Kirkland wine spans. Some of the other premier Napa regions we see offerings from include Rutherford and Stag's Leap, both consistently solid choices as well.
All of these Kirkland appellation-specific Napa bottles are priced around the $20-$24 range, well below the price other producers command for wines from these areas.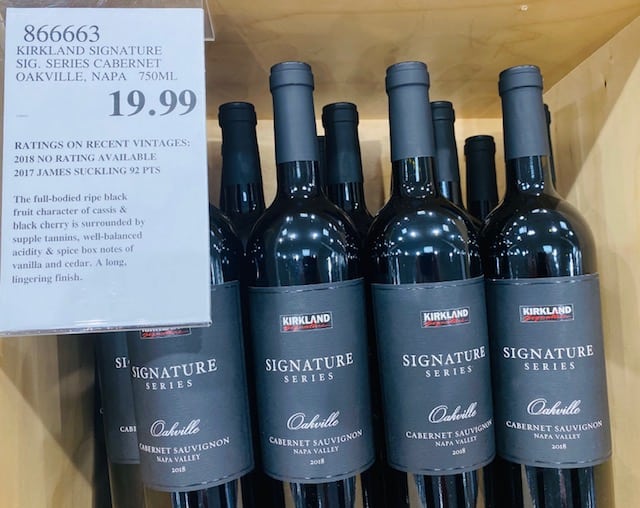 This Oakville bottle had a small price increase in the last vintage, so we are happy to see it stay the same for the new 2018 vintage at $19.99.
Historically, we usually land in the low 90's for the Kirkland Napa portfolio of wines. Here's a look back at our ratings on the Kirkland Oakville Cabernet.
2017 90 points
2016 90 points
2015 91 points
2013 90 points
I'm going 91 on this new vintage as it really hit me right, especially after a good 60 minute decant. The wine was a bit closed on the initial pour, but once it opened up it was delicious and really showed what it had to offer.
This wine pours a deep ruby in the glass with juicy red fruit and baking spice on the nose; full in body, nice texture with grippy tannins; mostly dark fruit flavor, blueberry, a note of clove, and some vanilla and mocha into the finish.
This is a very nice wine, signature Oakville for fans of the appellation and a nice premium wine buy available at Costco for $20.
CostcoWineBlog.com Rating: 91 points (a Costco Wine Top Pick)
Costco item number: 866663
Purchased at Costco in: Atlanta, GA (Kennesaw)
Alc. 14.9%