It's nice to see this one back on Costco shelves. It was hinted at being out there in a recent Wall Street Journal article about Costco Wine (here it is, subscription required). So that sent me into my Costco on the lookout.
Kirkland's Rutherford offerings used to be just a Meritage blend, which we enjoyed (rating around 88 points), but then almost two years ago, we got a straight Rutherford Cabernet Sauvignon from Kirkland in the 2016 vintage. Our contributor Erin, liked this wine, scoring it 89 points.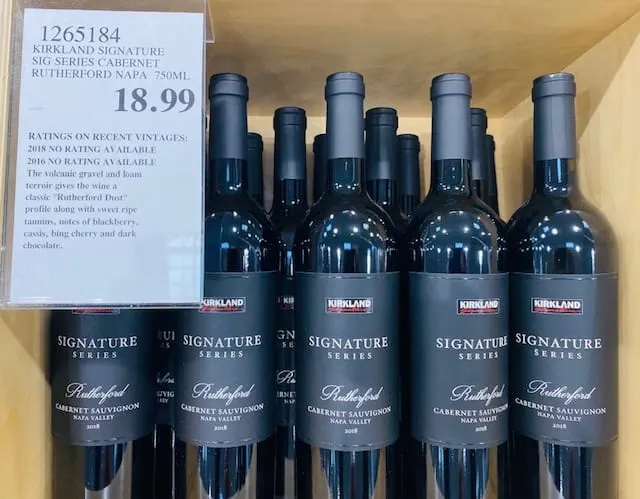 It looks like we might have skipped a 2017 vintage, as indicated both by our inability to find one, and the Costco placard sign you see here which appears to skip it as well.
And the price seems to have gone up $1, from $17.99 for the 2016 to $18.99 for the 2018. But it turns out to be more than worth it.
For this new 2018 vintage we once again have Glenn Hugo as the winemaker, and he has been at the helm of many other Napa Kirkland wines that we've reviewed.
I was immediately impressed with this wine from the moment we popped the cork. Juicy, floral aromas; the wine pours a deep ruby in color and is medium plus to full in body.
Flavors of black cherry and blueberry with dark chocolate and a touch of vanilla; chalky in the finish as these wines tend to be.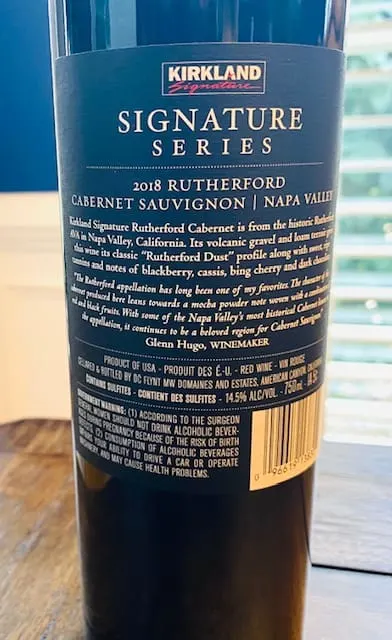 Just a beautiful package all around that we couldn't get enough of. This bottle could easily pass as having cost two to three times as much. This is high quality Napa juice under $20 that you just won't find anywhere else.
Certainly an addition to our Top Picks list, and hopefully an indicator of more great things to come from this Kirkland offering that is now among our favorites.
CostcoWineBlog.com Rating: 92 Points (a CostcoWineBlog Top Pick)
Costco Item Number: 1265184
Alcohol: 14.5%
If you love Kirkland wines, check out our full list of reviews and ratings and make sure that you're subscribed to our newsletter to get the latest reviews in your inbox (we never spam or share your info).