The Atlanta area must be the last place in the world to get this bottle. I've heard from readers for many months talking about the new Kirkland Cotes du Rhone Villages, and on my pretty-much-weekly trips to Costco, I have been consistently disappointed not to find it. Until now.
It's impossible to beat this price for a Cotes du Rhone Villages, which fortunately stayed the same at $6.99 for the new 2020 vintage.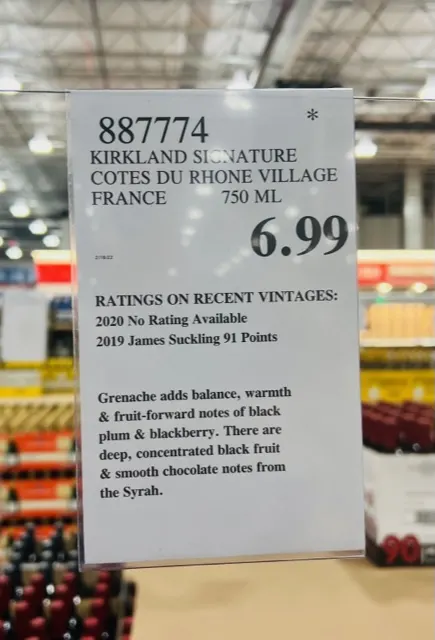 Historically, our ratings have been climbing for this wine:
2015 87 points
2016 87 points
2017 88 points
2018 89 points
2019 89 points
But…that run is sadly coming to an end. Readers had lackluster comments about this wine, and I really gave it a fair shot, tasting multiple different times, really trying to get to the bottom of it. Overall, it's a very average offering in our opinion.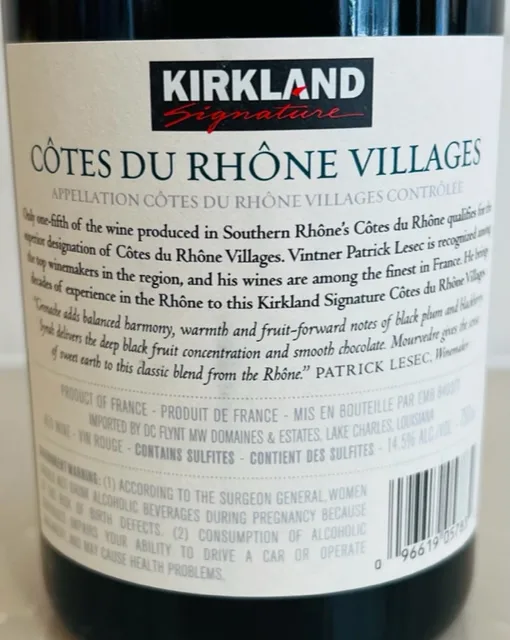 This wine pours a pale to medium purple in the glass; dark fruit, wet soil, pepper aromas; medium bodied and acidic, but flavors are a bit disjointed, there's some black cherry, blackberry, and plum, black licorice with a touch of mocha, finishes dry but just not as interesting as we've found past vintages.
We are big fans of Rhone wine, and have really enjoyed this one in the past. But something just didn't quite come together. At $7, if you like Rhone bottles, give it a shot and see if you like it. But I'd have to advise readers to pass on this one.
For the same price ($6.99) the Kirkland Bordeaux Superieur is a much better buy that is also making its way around stores right now.
CostcoWineBlog.com Rating: 85 points
Costco item number: 887774
Purchased at Costco in: Atlanta, GA (Kennesaw)
Alc. 14.5%