OK, this might be the most ridiculous Kirkland wine buy that we've ever tasted. The Kirkland CDR Villages just keeps getting better and better every year.
Last year around this same time, I reviewed the 2017 vintage and bumped it up to 88 points, from a previous 87. This year there is no doubt that I'm bumping it up again to a very well deserved 89 points.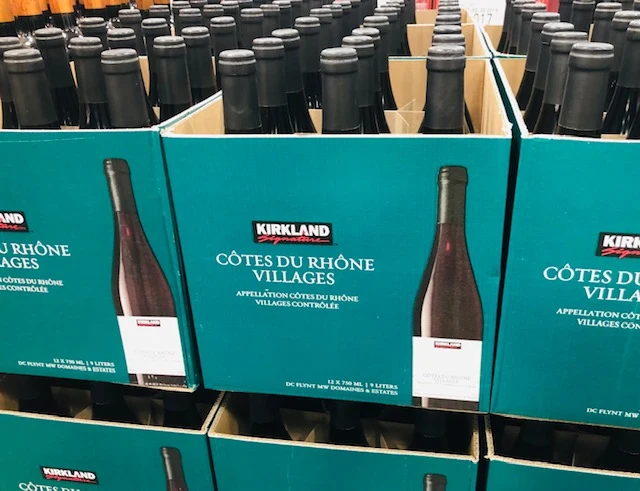 This wine is flat out ridiculous for the price, which I'm so grateful has remained the same at $6.99. I was thrilled to see it hit my Costco store and as I was in the process of moving six bottles into the wine box in my cart, another Costco member noticed and asked me if it was a good wine.
My reply, "If you like red wine, yes, it's one of the best buys in the store right now." Then I thought to myself that it might even be better than the value you can get from rotisserie chickens, Dubliner cheese and Kirkland olive oil. But I digress…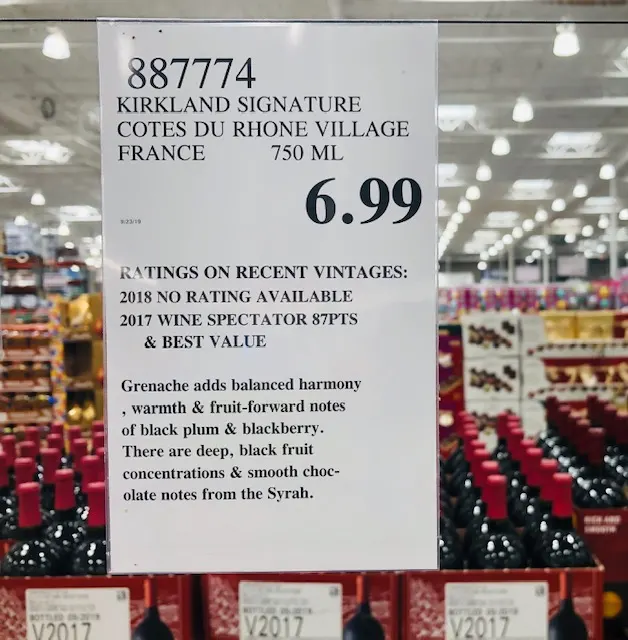 I've noted in the past, that access to wines like this justify the Costco membership fee almost by themselves. If you like Rhone wines, stock up while you can.
The wine is dark on the pour; spicy and perfume on nose; excellent in the mouth, medium plus in body, mostly dark fruit, blueberry, blackberry, pepper and spice in the finish that lingers for a while.
An unbelievable wine for the money. And a good one even if it was priced at $20, which is common with many comparable Cotes du Rhone Villages bottles.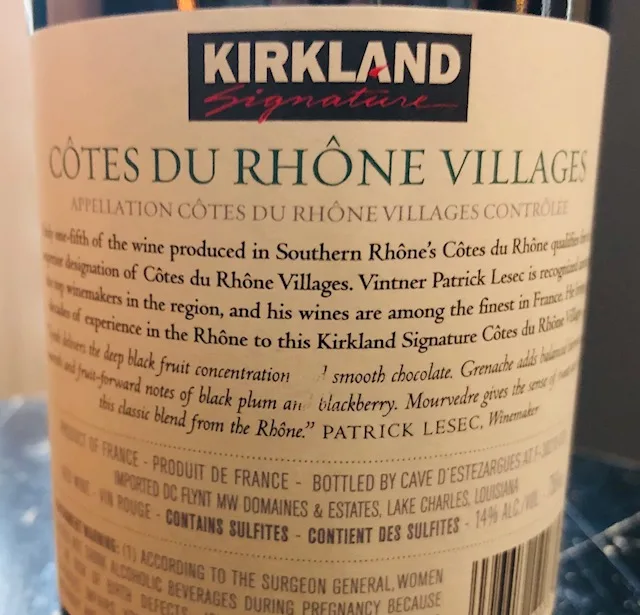 If I walked into a Costco with $30 in my pocket, I would get absolutely nothing. Just kidding…if I walked into a Costco with $30 in my pocket to buy wine, I would buy this CDR Villages and precede it in the night with the Kirkland Champagne for $20. If you do that, you just drank pretty awesomely for your money. That might be my plan for many nights in the future.
Although this one isn't quite at the 90 point threshold that I usually reserve for Top Pick wines, I'm going to put it on the list, because of the insane value to be had here. Stock up as this one might not last long once the word gets out.
CostcoWineBlog.com Rating: 89 points (a CostcoWineBlog Top Pick)
Costco item number: 887774
Purchased at Costco in: Atlanta, GA
Alc. 14%