I was first alerted to this wine from a reader via Twitter and was anxious to try it. I'm a fan of Chinon wines and this one is priced at Costco for $12.99, which is pretty good for wines from the region. Retail price on this bottle appears to be closer to $20.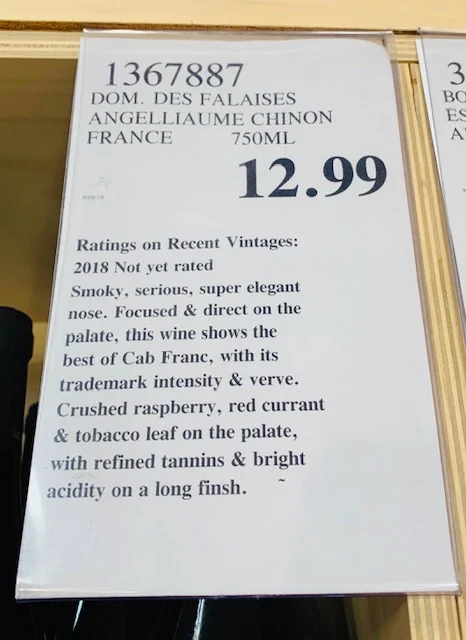 Inside is a classic Chinon (pronounced: she-known) wine that is made from 100% Cabernet Franc. The grape is typically used in smaller quantities as a blending varietal but it's quite delicious on its own.
We're seeing more straight Cab Franc offerings lately from South America, the US and Italy too, all presenting their own expressions of the varietal. But my favorite still remains Chinon in France's Loire Valley.
I picked up dried fruit and herbs on the nose; the wine is medium plus in body with underlying vegetal flavors of bell pepper mixed among dark fruit; spicy and sticky into the finish.
These wines are great when you want to change it up a bit from the usual varietals. If you're a Chinon fan, this is exactly what you're expecting at a very good Costco price. Perfect for pairing with a range of grilled meats, vegetables and cheese. Grab a few to enjoy this winter too.
CostcoWineBlog.com Rating: 87 points
Costco item number: 1367887
Alc. 12.5%
This wine was received as a sample for the purpose of writing this review. All reviews are written at the discretion of the individual reviewer. Opinions of the reviewer do not necessarily reflect those of CostcoWineBlog.com as a whole, and reviewers are not paid for their reviews by wineries or their affiliated distributors. We at CostcoWineBlog.com believe that wine preferences and opinions are often subjective and highly individualistic. Our scores are based on our individual perception of a wine and how well it reflects the area in which the grapes are grown, the expression of the grapes, and also the quality of the finished product. We remind readers that we are 100% independent of Costco Wholesale Corporation, and are simply of a group of Costco wine fans looking to try new wines and share our favorites with this community.