Well, here's why you shop at Costco, and like to buy wine there. Kirkland Signature wines are typically good values (although we've had a few skew the other way), but this Cotes du Rhone Villages, similar to year's past, is once again a ridiculously good buy for only $6.99.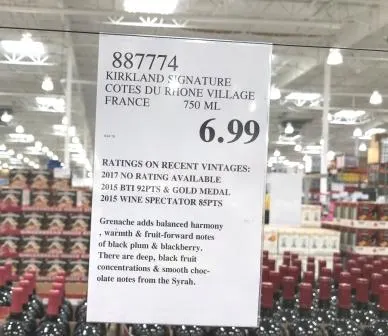 Longtime readers will know this is one of the bottles we anxiously look for each year, in hopes that it delivers the goods, and then we move in and stock up for the wintertime. And that's exactly what we plan to do.
I'm enjoying this wine on a crisp Atlanta night as the weather begins to change, with just a little Dubliner cheese (an equally good buy at Costco). And as I sit here enjoying this glass, I'm starting to think that I'm going to have to bump it up a point from past years; because for some reason this new '17 vintage is really hitting me right.
This wine is a classic Rhone GSM blend (Grenache, Syrah and Mourvedre) from a top name in the area, who's listed on the back label. Patrick Lesec, the winemaker here, has produced a number of wines in the Rhone area which can be viewed here.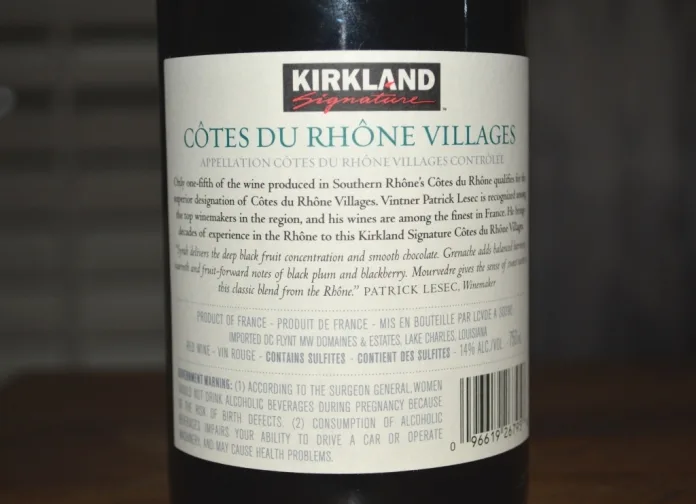 I would imagine this is among the least expensive in the portfolio, so it never hurts to have a pro behind the scenes especially when you're paying $7. In Napa, $7 will get you little more than a mishmash of left over varietals from the outskirts blended together with a fancy label.
Spicy, peppery on the nose, classic Rhone wine; medium plus in body, nice mouthfeel; mostly dark fruit, blackberry, anise, dark chocolate notes; finish is spicy with pepper; and after a good decant everything came together a bit more cohesively.
We went 87 points on the last vintage, with similar tasting notes, but I'm going to bump it up to 88 this year with a solid Buy recommendation. This is some good juice for the money.
CostcoWineBlog.com Rating: 88 Points (a CostcoWineBlog Top Pick)
Costco item number: 887774
Purchased at Costco in: Atlanta, GA
Alc. 14%