I'm a big fan of wines from Stags Leap, and have visited a vast majority of the wineries right there along Napa's Silverado trail. Stag's Leap Wine Cellars is one you don't want to miss; it's a classic Napa property given their role in the Judgement of Paris, which put them and Napa Valley wines on the map of the global wine scene.
I default to many of these Stags Leap wines when I'm not sure what to buy. If the Nickel & Nickel's are too expensive, like the Tognis and Alpha Omegas usually are, then I start looking in the Stags sweet spot with Darioush (love them), Cliff Lede, a personal favorite and when I'm looking for a slight step up from this Artemis, I go for the Stag's Leap Wine Cellars S.L.V.
I could write a whole post about the latter, but quite simply, it's a wine that everyone should try, sometime.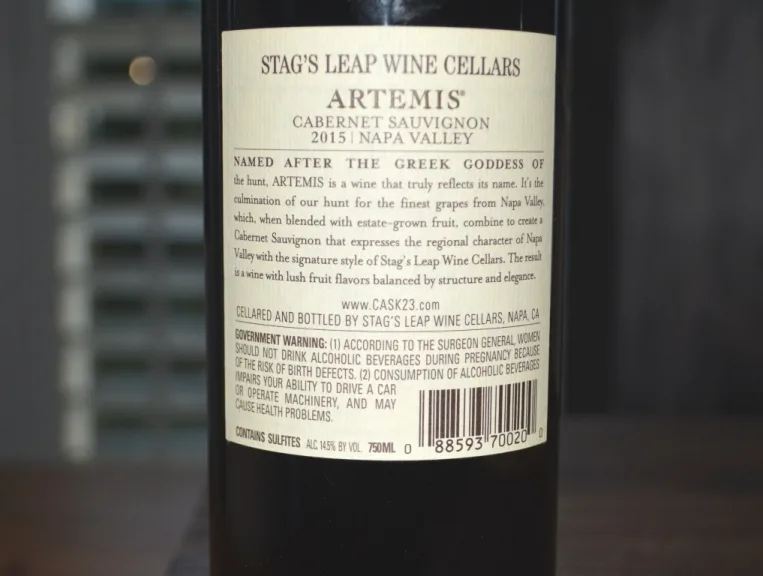 This Artemis wine is rated almost 90 points every single year, and priced at $63 retail, so Costco's $52 is a good healthy discount. I did see it a day after writing this at Total Wine, also for $52.
Delicious after a little decant; the wine really opened up and showed it's beauty.
Aromatic nose, spicy, red fruit, very expressive right from the get go. Medium plus to full in body; beautiful flavors of dark cherry, plum, dark fruit, boysenberry; finish really bites in, dry, mouth coating and lasting.
Quintessential Napa Valley wine here; we enjoyed this bottle with grass fed NY Strips which is almost too perfect, but I think this wine can stand on its own, and pair with a wide range of food. The varietal makeup is Cab dominated but includes a touch of other varietals: 94% Cabernet Sauvignon, 5% Merlot and 1% Petit Verdot.
This wine is just a solid choice, year in and year out; a perfect dinner companion when you're looking to step up your game, and all in all, not a bad Costco price for what you get.
CostcoWineBlog.com Rating: 90 points
Costco item number: 751668
Purchased at Costco in: Atlanta, GA
Alc. 14.5%