The new Kirkland wines just keep flowing. In the past few weeks, we've reviewed the latest vintages of the Kirkland Premier Cru Chablis, Kirkland Oakville Cabernet, Kirkland Cotes du Rhone Villages, and the Kirkland Sancerre. All get a thumbs up from us, except the Cotes du Rhone that was a little lackluster this time around.
This Kirkland Napa Valley Cab is hitting stores now in its third vintage. We enjoyed the prior 2018 vintage, and didn't find the 2017 that was hinted at in last year's photo of the Costco placard. So we were curious what the 2019 vintage would bring.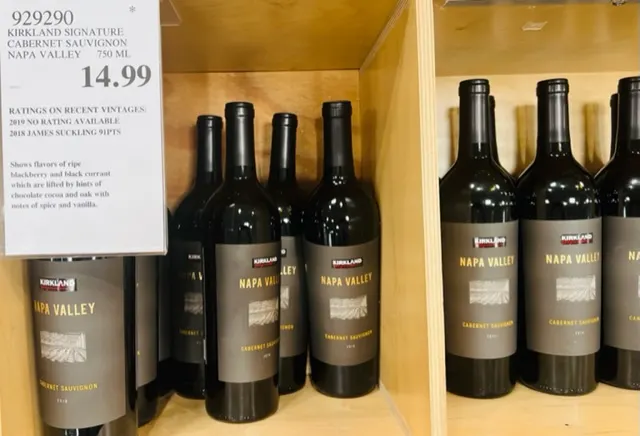 The price stayed steady at $14.99, and that's a big part of the story for this wine once again. We didn't find it to be incredible, but at this price range there are few other true Napa Cabs to compare to. That's generally the case with these Kirkland bottles; they are almost consistently a fair buy and representative of the region presented.
This wine pours a medium ruby/purple with dried cherry and spice nose; mostly dark fruit, black cherry, blueberry and plum flavors; medium plus in body; earth, spice and a touch of vanilla leading into the finish. Very similar notes as we listed for the 2018 vintage.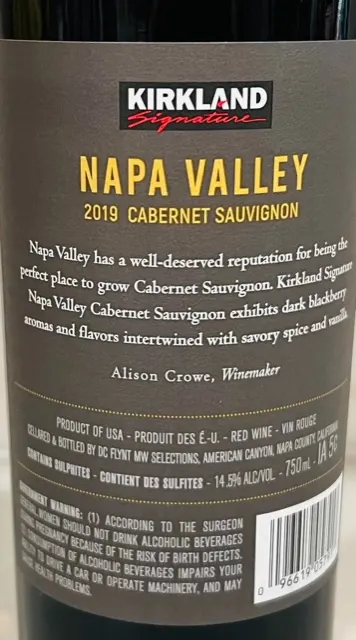 This bottle remains a staple Napa Cab, nothing crazy but well made and easy to enjoy. Again, if you're looking for Napa on a budget, this is right up your alley. We're keeping our rating the same at a respectable 88.
CostcoWineBlog.com Rating: 88 points
Costco item number: 929290
Purchased at Costco in: Atlanta, GA (Kennesaw)
Alc. 14.5%