Finally, for the first time, we didn't skip a vintage on the Kirkland Chablis. For some reason, this one either doesn't always appear near us, it sells out fast, or it skips a vintage. I think it's a combination of the first two.
But we found it this time, and there's good news right off the bat. The price went back down to $17.79, which is about where it used to be, down from $19.99 that we saw in the previous vintage.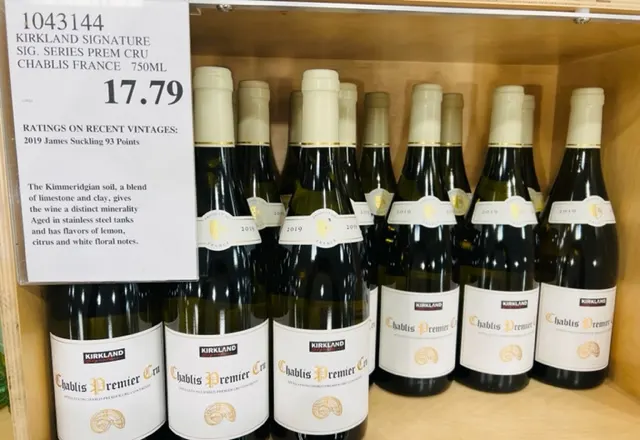 That is still a sweet price for Premier Cru Chablis no matter how you look at it. We also welcome a new winemaker with the 2019 vintage, Pierre Brissy, who appears to work with several Burgundy estates, at least according to a quick Google search. And you see Suckling gave the wine a nice 93 points.
Looking back historically we've been walking up the ratings for this wine reaching a high of 89 in the most recent 2018 vintage.
2014 vintage: 87 points
2016 vintage: 88 points
2018 vintage: 89 points
If history had its say, we'd be giving an easy 90 points for the 2019 vintage. And that's exactly what I'm going to do. This might be our favorite vintage so far.
The wine pours a medium gold in the glass with citrus fruit aromas; it is medium in body with great flavor, very elegantly delivered; lemon, green apple, nectarine; excellent finish too. We're big fans of Chablis, so this clean, unoaked style of Chardonnay really appeals to us.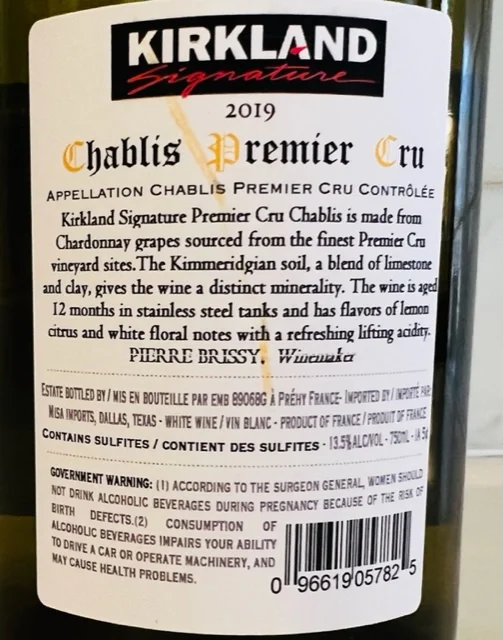 This expression in particular is very well executed in our opinion, and this wine remains an amazing buy, way below what you will find for any other Premier Cru Chablis.
So this Kirkland wine will finally hit our Top Picks list, which makes me happy as I've always wanted it to reach this level. Grab a few for summertime too.
CostcoWineBlog.com Rating: 90 Points (a Costco Wine Top Pick)
Costco item number: 1043144
Purchased at Costco in: Atlanta, GA (Kennesaw)
Alc. 13.5%