There's good news and bad news with the latest vintage of this Kirkland bottle. We'll start with the bad news, the price going up $2 to $19.99. In the last vintage we reviewed, the 2016, it was priced at $17.99.
Even at $17.99, we enjoyed, but weren't in love with, that vintage. The good news is that this new 2018 vintage, although a little more expensive, was a step up in quality in our opinion, and wine that we would definitely buy again.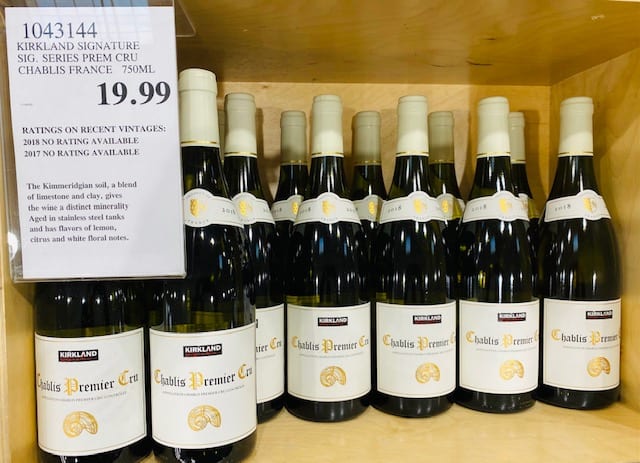 We seems to skip vintages of this wine, although the Costco placard pictured above lists a 2017 that we didn't see near us. Our review started with the inaugural 2014 vintage which we thought was good, not great, and rated 87 points. The 2016 stepped it up a tad and we went 88 points. And I think we'll add another point this year, bringing it up to 89 points.
This wine poured a medium gold with citrus fruit on nose; flavors of lemon, grapefruit, and green apple; nice acidity, minerality and light in body. Lots of flavor packed in with some good tart and a strong finish. Overall, a very clean expression of Chardonnay, as Chablis often tend to be.
This one is not for the big oak loving Chardonnay drinkers as it's aged in stainless steel. It's ideal for fans of sauvignon blanc, unoaked Chardonnay and other fruit forward whites.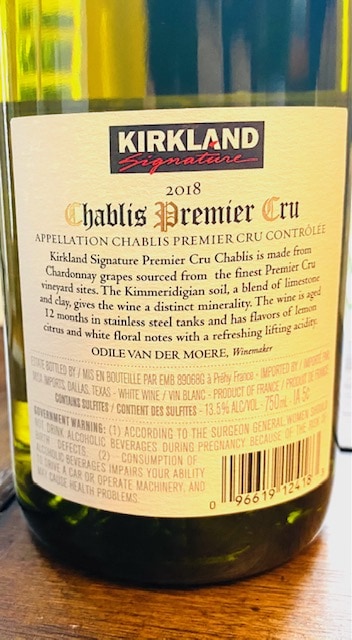 I'm happy to see this bottle trending in the right direction quality-wise. And even with the price increase we are getting access to some nice juice from a top area. I recommend trying a bottle and if you agree with our assessment, then go and pick up a few more.
CostcoWineBlog.com Rating: 89 Points
Costco item number: 1043144
Purchased at Costco in: Atlanta, GA
Alc. 13.5%