The 2016 vintage of this Kirkland Napa blend gets a brand new, fresher look to the label that I much prefer, although the wine inside reminded me a lot of the previous vintage.
You have to keep the price point in mind with this wine. It's $11 for Napa Valley juice, which isn't something you see every day, at least not in a drinkable package, which this bottle still does represent, although I'd like to get a bit more from this wine.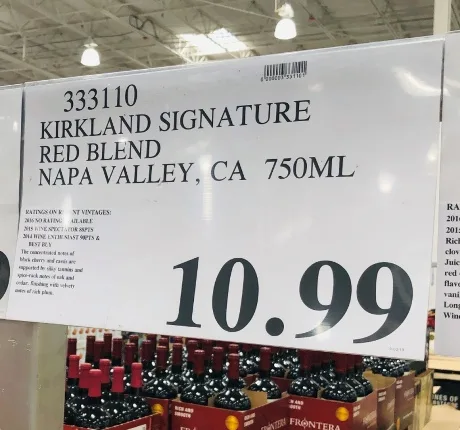 The blend is 67% Merlot, 24% Cabernet Sauvignon, 4% Petit Verdot, 3% Cabernet Franc and 2% Malbec. Very right bank Bordeaux in makeup, but pretty California in style and taste.
Looking at the tasting notes from last year, it's ironic that all five varietals are proportioned exactly the same. The winemaker at the helm is once again Glenn Hugo from Girard and B.R. Cohn in Sonoma. We have seen him listed on quite a few Kirkland bottles as of late.
The wine needs a little decant to get going; it's an inky purple on the pour; smells as expected of that candied CA red; in the mouth flavors of pomegranate, blueberry and dark chocolate; it's fairly sour with a finish that didn't hang around too long.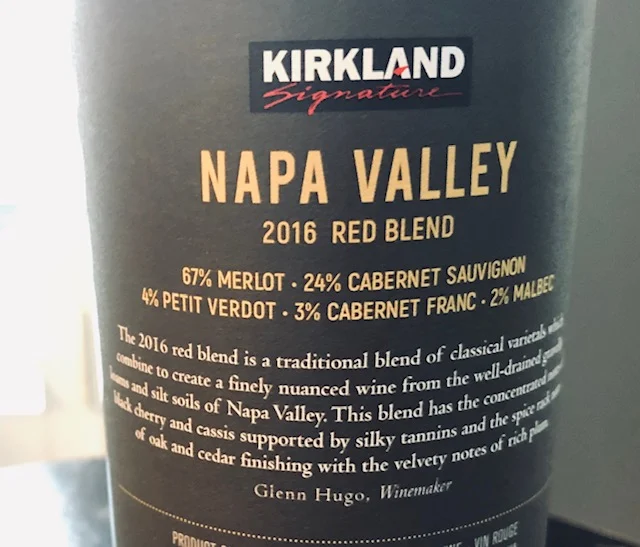 Again, very similar to the 2015 vintage, so if you enjoyed that one, this bottle will be right up your alley. For me, I'd swim a little further upstream if you can. The Kirkland Oakville, Stags Leap and Rutherford wines should be arriving in stores soon, and offer a remarkable step up in quality for another $4-6.
CostcoWineBlog.com Rating 86 points
Costco item number: 333110
Purchased at Costco in: Atlanta, GA
Alc. 14.5%