Long time readers know that I always like to taste the various inexpensive Bordeaux that seem to land in the "Cheap Seats" (aisles of wine, not wooden boxes) on a regular basis.
It's almost like they cycle in regularly; when one's gone another one arrives. And you don't always see the same producers year after year, so it's one of my favorite areas to peruse on every Costco visit.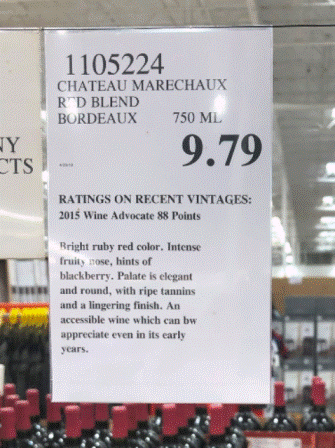 You can find quite a few of our reviews of these inexpensive, typically sub $10 Bordeaux by scrolling through the French wine section of the site. Our most recent review of the Chateau de Belcier is a perfect example of the value you can often find. That wine was delicious for only $8.79, and I'd recommend it over the wine we are reviewing today if you see them both.
I thought the Chateau Marechaux Bordeaux Superieur was pretty middle of the road as far as under $10 Bordeaux goes at Costco. Costco's price is $9.79. Wine Enthusiast listed the retail price at $18 and went 88 points as did Wine Advocate, which might be a tad generous in my opinion.
No doubt that 2015 is an excellent Bordeaux vintage, and one of my favorite vintages to collect, but this bottle is a pretty basic offering and about what you would expect for the price. It will serve as a nice table wine for mid-week dinners, but didn't really interest me too much in the end.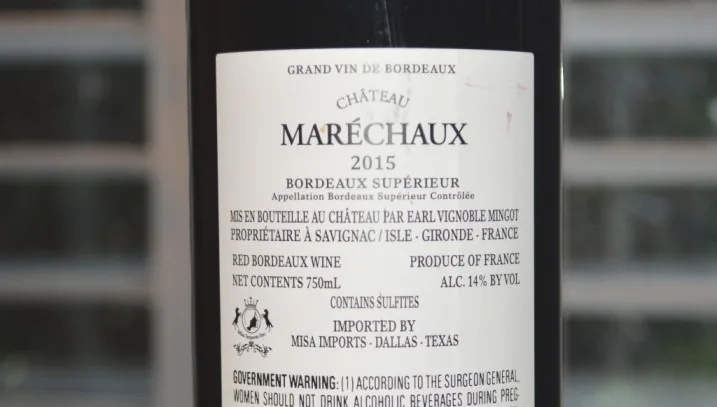 The wine is medium in body with perfume and red fruit on the nose; flavors of dried cherry, red and dark fruit; finishes quick and dry. It doesn't have the candied fruit of a cheap California red so points there.
I'd say this wine is ok for what it is: an inexpensive red for every day drinking. Not much more, and there are other similar offerings, like the aforementioned Belcier, that I think represent better buys.
CostcoWineBlog.com Rating: 86 points
Costco item number: 1105224
Purchased at Costco in: Atlanta, GA
Alc. 14%