There are a lot of interesting aspects to this wine.
First up, we reviewed the 2012 vintage two years ago (don't remember seeing a 2013 at Costco but I may have missed it) and really enjoyed the wine rating it 88 points and we found it to be a great value for the price which was then $10. So I was of course happy to see it back in Costco stores again in the 2014 vintage.
The price this year was $8.79, which is a bit less than last time, and retail seems to be around $17, so that's a healthy Costco discount.
Another interesting fact about this wine is that it is comprised of 92% Merlot and 8% Cabernet. Whether it's Cabernet Franc, or Cabernet Sauvignon, it doesn't state? I'm surprised the label wouldn't specify but from poking around online, I'm pretty certain it is Cabernet Franc. I think it tastes like a blend of Cab Franc too, which is one of the top varietals along with Merlot grown in Castillon. The 2012 vintage we tasted even included a small amount of Malbec which was left out this year.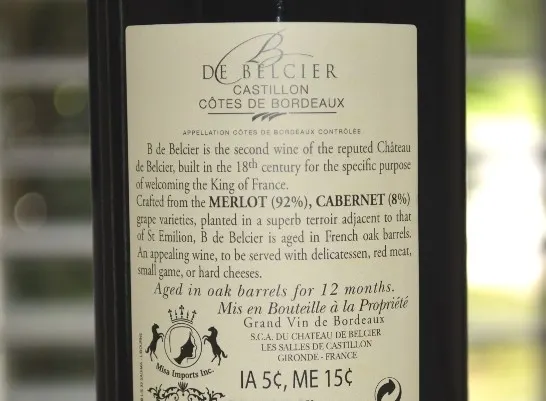 And one of the coolest parts to the wine is that the vineyards are adjacent to St Emilion so you are essentially getting St Emilion fruit without the name, hence the lower than normal price. A wine like this labeled as being from St Emilion would likely be $25+.
The wine pours dark with subtle oak and dark berries on the nose; flavors are mostly dark fruit, blackberry, blueberry with dark chocolate notes; finishes strong, dry with black pepper; the finish this year seems to be a little stronger than I noted in the '12 vintage.
2014 was also a good growing year throughout most of Bordeaux so that's always a bonus. Lots to like here for under $10. Côtes de Bordeaux is an exciting region that is becoming more in the public eye recently. Here's a great article from Wine Enthusiast on the area with some other wines to try produced in the areas nearby Castillon. The Château Chantemerle from Blaye mentioned in the story is an amazing buy, especially that '15 vintage if you see it around.
Back to this wine, I'm going up a point to 89 this year. I just don't see many good reds under $10 that drink like this one. The fact it has a touch of age on it, makes it even more fun. Although our Top Picks list is usually reserved for 90+ point rated wines, I'm going to put this on, given its extreme value.
CostcoWineBlog.com Rating: 89 points (a CostcoWineBlog Top Pick)
Costco item number: 1255369
Purchased at Costco in: Atlanta, GA
Alc. 13.5%