There's a fair amount to talk about with this wine so we'll get right to it. It's the entry price point into the world of Hope Family Wines.
We've found the classic Austin Hope Cabernet at Costco for $45.99 and loved it, giving it a nice 92 points and a spot on our Top Picks list. It remains one of our go-to bottles when you want something really nice but don't want to break the bank.
This Treana bottle is a delicious wine too, and comes in about half the price of the Austin Hope Cabernet. Costco' price was $23.99. Retail seems to be around $30-35 and you can find it for a little less online, so Costco's price is right on.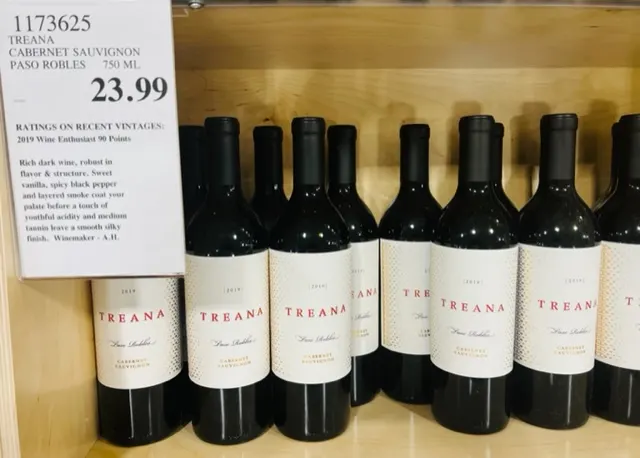 We also love Paso Robles wines, and have written about them extensively, including Dauo, Justin, and Dauo again (Chardonnay). In the US wine world, we recommend Paso Robles and Washington State as the two regions to explore when seeking high value/great prices right now.
This wine has also received several 90+ point scores over the years, including a 90 from Wine Enthusiast for this current 2019 vintage. There are a few other varietals included here worth noting: 90% Cabernet Sauvignon, 5% Petite Sirah, 4% Merlot and 1% Petit Verdot.
In the glass the wine is a deep, dark ruby; dark fruit, leathery nose. The wine is full bodied with deep dark fruit, blackberry and plum flavor with notes of cigar box and clove; pepper into the finish, a very nice wine overall.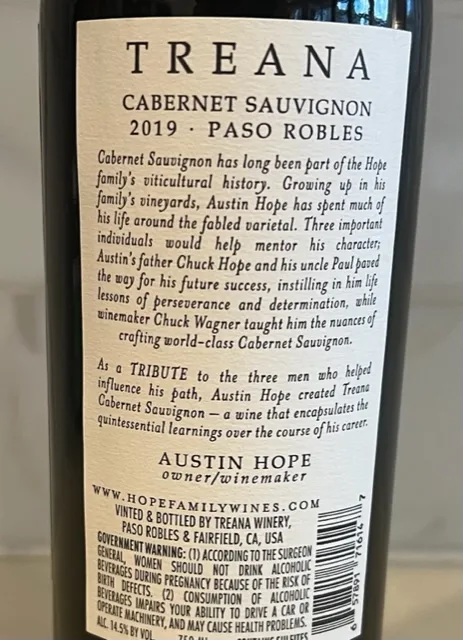 As we've said before, the jump in quality from $15 to $25 is often times pretty significant, and this bottle is a case in point. Lots to like here from a dependable producer. Fans of Paso Robles and Austin Hope wines have found a winner for sure.

CostcoWineBlog.com Rating: 88 points
Costco item number: 1173625
Purchased at Costco in: Atlanta, GA (Dallas, GA)
Alc. 14.5%