I think if you had to identify regions in the U.S. that were delivering high quality wines at great prices, Washington State and Paso Robles would have to be towards the top of the list, at least in my opinion, and in correlation with my tastes.
I wrote a feature on why you should be drinking Washington State wines recently, and should probably do one on Paso Robles too. But regular readers will know we've posted very favorable reviews this year on a number of wines from Paso Robles including Dauo, Justin, and Dauo again (Chardonnay).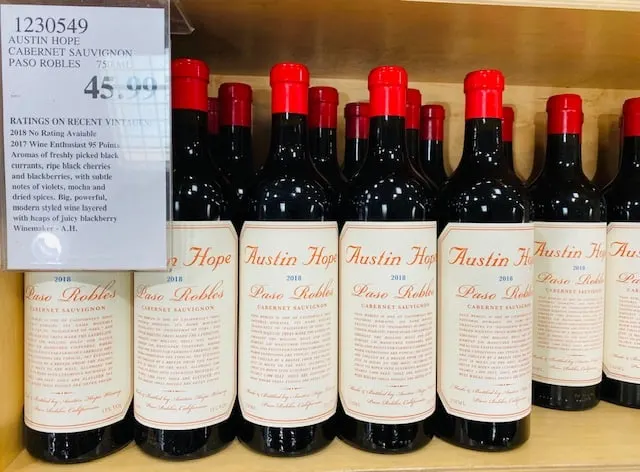 I've tasted Austin Hope wines several times before, mainly at restaurants and fairly recently at a wine bar, and was happy to see it arrive at my Costco. The price tag is not inexpensive at $45.99, and that's about where you will find this wine priced most places. So there's not a lot of extra "Costco discount" on this bottle like we normally get.
But it's worth it. When you step up from $20-$25 to $40-$45 it's a nice bump in quality. This wine was big, spicy and full bodied, but very elegant, and well balanced.
The wine pours a deep ruby in the glass, about as dark as it gets; it has a super aromatic nose of baking spice with nutmeg, maybe a little bay leaf; it presents a really nice combo of red and dark fruit; I picked up flavors of cherry, strawberry, blueberry and plum.
There's a touch of vanilla and dark chocolate leading into the long, chalky finish. Overall, just really well balanced throughout, and a joy to drink. Of course pairing it with a NY Strip as we did helped the experience too.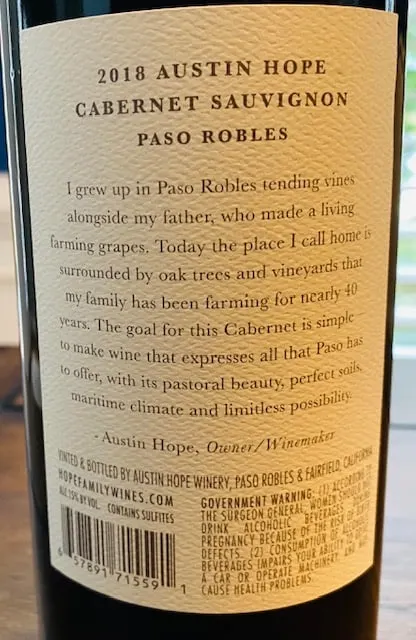 The Austin Hope Cabernet was as good as I remember it from my prior tastings. It is an excellent wine and one that if it was from other parts of California might cost two or three times as much. If you're looking to treat yourself, this is a great way to go.
CostcoWineBlog.com Rating: 92 points (a Costco Wine Top Pick)
Costco item number: 1230549
Purchased at Costco in: Atlanta, GA (Kennesaw)
Alc. 15%