I think we will all agree that 2020 is a year like no other. Thankfully, wine has been a bright part of it for me as I imagine it was for many of you.
This is the time of the year when we look back at the Costco wines we reviewed throughout the year, and line up the ones that we rated the highest.
I have to put out the usual disclaimer. Like every item at Costco, wine moves fast; it's here one day, gone the next, never to be seen again (except for those rare surprise appearances). So it's very possible that many of these bottles are no longer on store shelves.
But keep an eye out because you never know. Dig around bins and look under the wooden boxes. There are always hidden gems to be found.
Here's last year's list if you want to take a quick peek; lots of new ones this year which is great for building a list of wines to search for.
So let's get into it. Here are the Costco wines we tasted in 2020 that we rated the highest (starting in January):
What a way to start the list off. This is the "second" wine from famed Bordeaux estate Chateau Malescot St. Exupery and the price was $30.99. This is a great way to experience top notch Bordeaux wine at a reasonable price. We went 91 points [our review].
An exciting new entrant in the Kirkland wine family. Here's what we said about the new Kirkland Barolo:
"The price for this Barolo is $19.99, which falls right in the ballpark where we see many higher end Kirkland wines (Pauillac Bordeaux, Chateauneuf, Brunello, Champagne). In each case the Kirkland price is a fraction what you would normally pay for wines from these premier regions." We rated it a solid 92 points [our review].
We were lucky to catch this at a special discounted Costco price. It's normally $20 and we scored it for only $12 which is insane. But it drinks so good it's a value at $20, and even $30. We really enjoyed this one, and rated it 91 points [our review].
It seems like we tasted and reviewed a lot of Russian River Chardonnay this year, and this bottle from Pellegrini stood out from the pack. The price was only $15 and it was delicious and memorable. We rated it 91 points [our review].
Sometimes a wine just hits you right on every accord and that's how I felt about this wine. I was not familiar with the producer (I am now, and enjoy following them on Instagram), and bought this on a whim. Glad I did. It's not inexpensive at $24, but that's off a retail price of around $37. But it drinks way above this Costco price. A well deserved 92 points from us [our review].
Always one of our favorite Kirkland wines of the year, and this current vintage is a perfect example of the quality you get in this wine at a great price. It's $24 and creeping up it seems, but anything comparable from Stag's Leap is going to run you double, more like triple that price. Such a great wine that we rated 91 points [our review].
Washington State wines are amazing, and still fairly priced. You don't find that nowadays too many places in the wine world. This bottle is the perfect example though. It was $8.99 and from Red Mountain, one of Washington's State's premier regions. Really surprising what you get for the money with this one. Seek out these Washington wines while you still can [our review].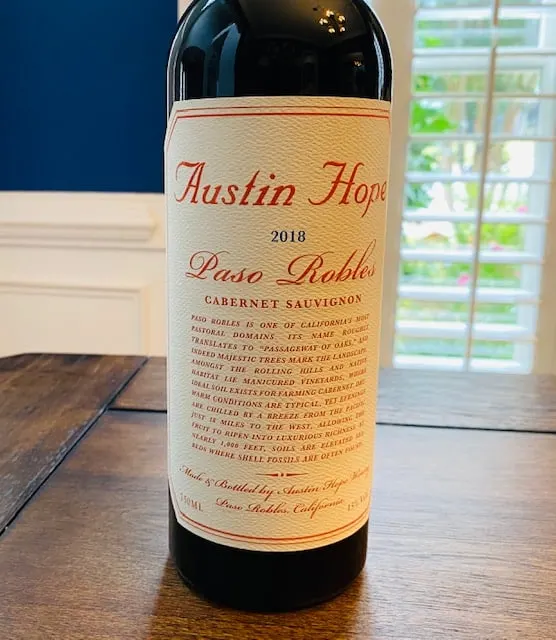 And if we're going to call out Washington State wines, we'd be remiss not to call out Paso Robles, and this bottle from Austin Hope is a great way to do it. Big and elegant go hand in hand here with this amazing bottle of Cabernet, coming in at $46, but similar to aforementioned Stag's Leap wine, this one drinks like it cost a lot more; 92 points from us [our review].
That's going to wrap it up for 2020. In reviewing all of our ratings this year, it would be a disservice not to list all the runner ups because we had so many wines rated 89 and 90 points that were so good, just not at the upper echelon of our reviews.
You can review all those here in our ongoing Top Picks list. This is a good link to bookmark if you just want to quickly bring up our most curated recommendations of Costco wines.
2020 has been a wild ride. Thanks for following the site and sharing all of your Costco wine findings and suggestions. This site and our community are continuing to grow like crazy, and it's a lot of fun for all of us to interact with like-minded Costco shoppers looking to score great juice at great prices.
Feel free to comment below if there are wines you tasted in 2020 that you think everyone should be aware of. Cheers.
Andrew, Founder and Editor
Stay in touch. Remember to sign up for emails from us, that arrive twice a week with the latest reviews, and we promise, never any spam or sharing.