There are quite a few solid choices for Pinot Noir at Costco right now, and this new Kirkland Carneros bottle is among the better buys in our opinion. It's hard to find Pinot from Carneros this affordably priced, and also this good. That's what we hope (and have come to expect) Kirkland wines to deliver for us.
Thankfully with the arrival of this new 2019 vintage, Costco kept the price the same as last year at $9.99, and the wine is equally as good as it's been in years past. Note on the placard below Suckling went 93 points on the prior vintage. We feel he's always a little high but that's a pretty big rating.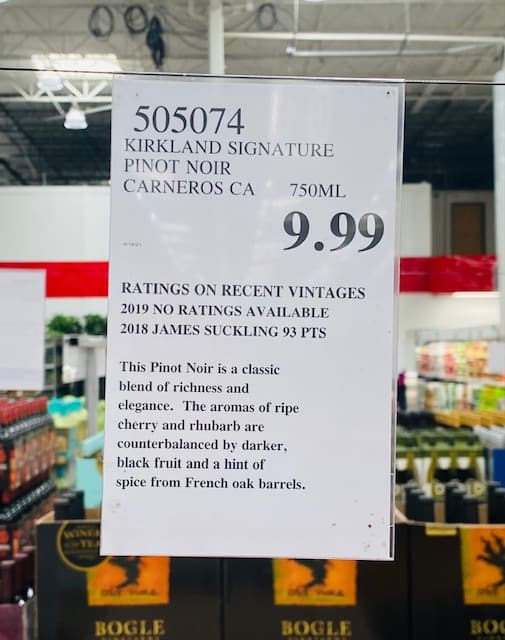 Quick history of our ratings for the Kirkland Carneros Pinot Noir:
2016 89 points
2017 90 points
2018 89 points
For this new 2019 I'm keeping my rating right at 89 points. It's an excellent wine and so good at this reasonable price point.
In the glass the wine pours a pale purple and ruby; red berry fruit on the nose and it's medium in body in the mouth; flavors of spicy cherry, cola, cranberry, then some dark fruit, a touch of blueberry.
I always like a nice contrast between the red and dark fruit like this; good acidity throughout and a fair amount of depth considering the price point. Super lasting in the finish. Right on par with the 2018 vintage that had similar tasting notes.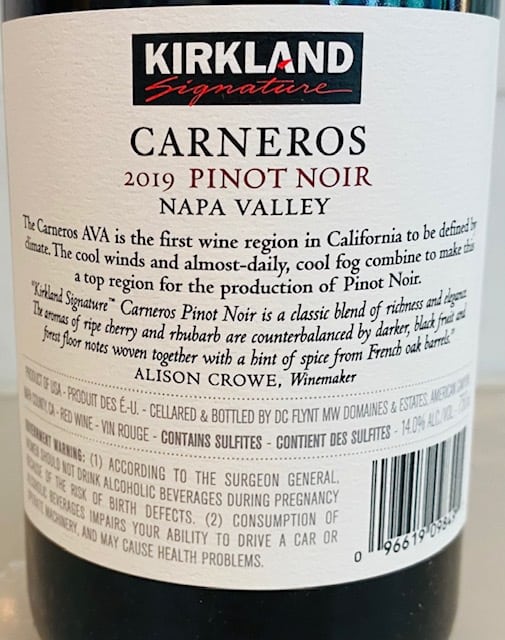 Among the Kirkland Pinot Noirs, the $15 Kirkland Willamette Valley Pinot remains a tough contender and one of our recent favorites. At $5 less than that, this Carneros is hard to beat. We aren't huge fans of the Kirkland Russian River Pinot, so would recommend opting for one of the prior two.
Or check out all of our recent Costco Pinot Noir reviews. This one from last month is dynamite too.
CostcoWineBlog.com Rating: 89 points
Costco item number: 505074
Purchased at Costco in: Atlanta, GA (Kennesaw)
Alc. 14%