It's been a long time, more than six years, since we last reviewed the Cambria Julia's Vineyard Pinot Noir. But that was certainly not the last time we've tasted this wine as it is on my go-to list for value Pinot. It's just not always available at Costco so scoop it up when you find it.
When we last reviewed the 2012 vintage that we purchased at Costco for $20, we found it to be really good value. Retail price on this wine seems to be around $24-$25.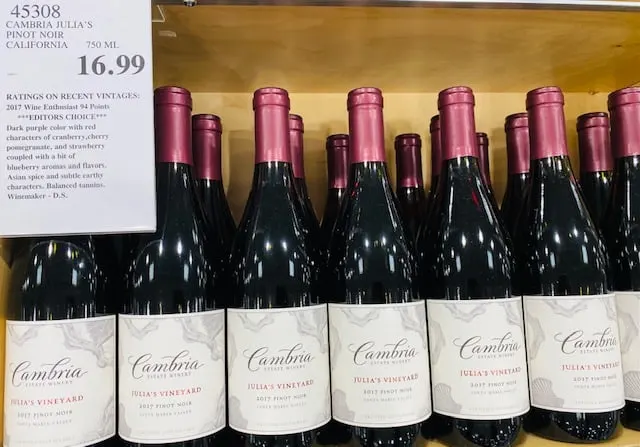 The good news on this 2017 vintage in stores now is that the price was down to $16.99, which totally caught me by surprise. What a deal for this bottle. Plus, Wine Enthusiast gave the wine a huge 94-point rating and listed it as an Editor's Choice. Let's get into what's inside.
This wine is from Santa Maria Valley in Santa Barbara County, and proudly states the certified sustainable farming designation on the front of the label.
The color is a pale ruby, very much on the pale side. It pours light but that's not an indicator for what's coming. It's the nose that gets you right away. The aromas are super vibrant; fresh berries, spice and earth.
Nice depth in the mouth with cherry, cola, strawberry flavors; toasty in the finish with a nice peppery spice and a little vanilla.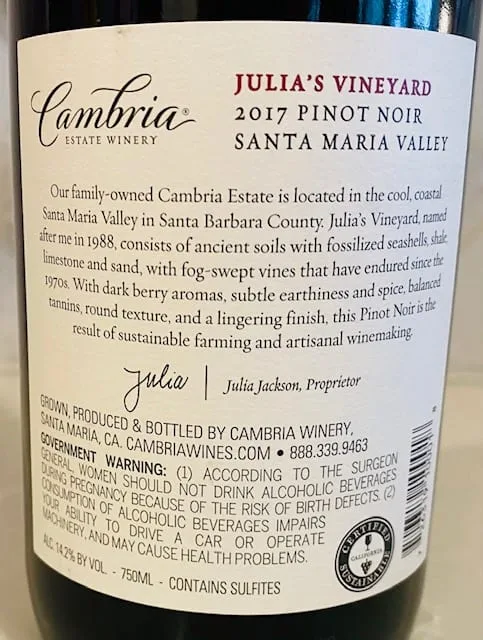 Excellent wine, and an amazing value. So now the question is, how does this stack up to the other Pinots in Costco right now that we've reviewed?
Well, we're going 90 points on this one, which is the same as the recently reviewed Kirkland Willamette Pinot although these are two different wines. This Cambria bottle is ideal for fans of a more traditional Pinot. The Willamette bottle is a Pinot ideal for fans of bigger red wines. Both great bottles, just a little different.
I enjoyed them both a little more than the latest Kirkland Russian River Pinot but still hold the Balletto Pinot Noir as the one to beat, albeit slightly upstream in price, but what a delicious wine.
Regardless of the nuances, every wine I just listed is a solid bet, this Cambria being among the top of the pack. Explore and let us know what you like the best.
CostcoWineBlog.com Rating: 90 points (a Costco Wine Top Pick)
Costco item number: 45308
Purchased at Costco in: Atlanta, GA (Kennesaw)
Alc. 14.2%