There are quite a few new vintages of popular Kirkland wines hitting stores right now. This Chianti is always an interesting find for us that we are anxious to taste but never super excited about.
Right off the bat though there's some good news, a price drop. For as long as I can remember this wine has been $8.49 so I was surprised to see the new 2018 vintage land in stores for $7.99. It's a small amount, but the lowering of the first digit might spur a few more sales.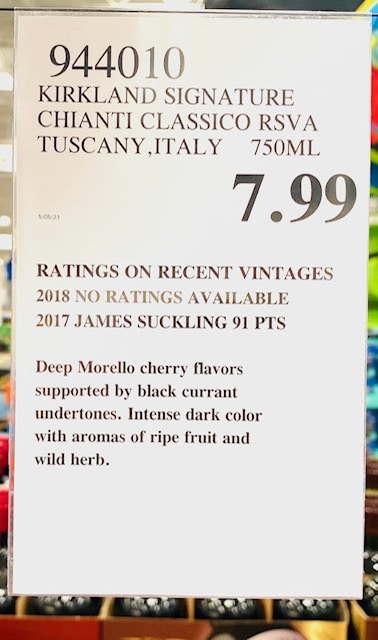 We've always felt this bottle was on the mediocre side of things, and our historical ratings showing it gradually trending downwards.
2013 88 points
2014 88 points
2015 88 points
2016 87 points
2017 86 points
We did feel this year was a slight step up, back to 2016 levels.
The wine pours a medium ruby in color with black cherry and earth on the nose; in the mouth is more black cherry, a touch of anise, mostly dark fruit with firm tannins; the wine is acidic and dry in the finish.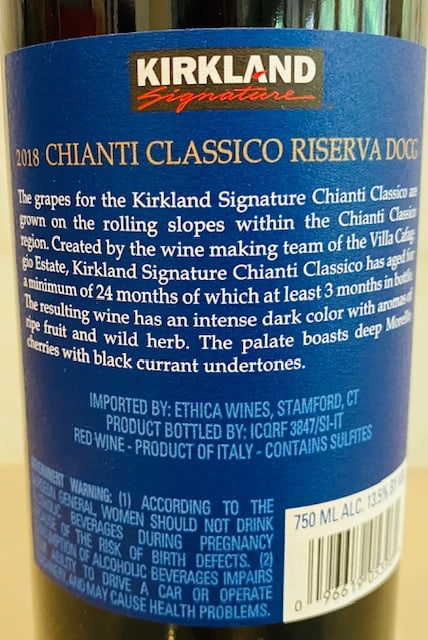 Overall, the first word that comes to mind is once again "basic." This is Chianti-lite but it is still very pleasant all around; it just lacks depth.
You could do a lot worse, and for $8 it is exactly what you think it is. An inexpensive, drinkable Chianti, perhaps a little better than last year and still a good choice for Tuesday pizza night. Try one before you buy more.
CostcoWineBlog.com Rating: 87 points
Costco item number: 944010
Purchased at Costco in: Atlanta, GA
Alc. 13.5%