There's an interesting story behind this wine as evidenced by the clue in its name "Dijon Clone."
Willamette Valley Vineyards founder Jim Bernau travelled to Burgundy France in the 80's and brought back these vines for use in Oregon vineyards where he expected they might also thrive. And based on my tasting on this bottle, thrive is definitely the right word.
I wasn't sure what to expect but this turned out to be a delicious blend of the old and new worlds of wine. Super pure and clean, just the style of Chardonnay that I enjoy the most as long-time readers will know.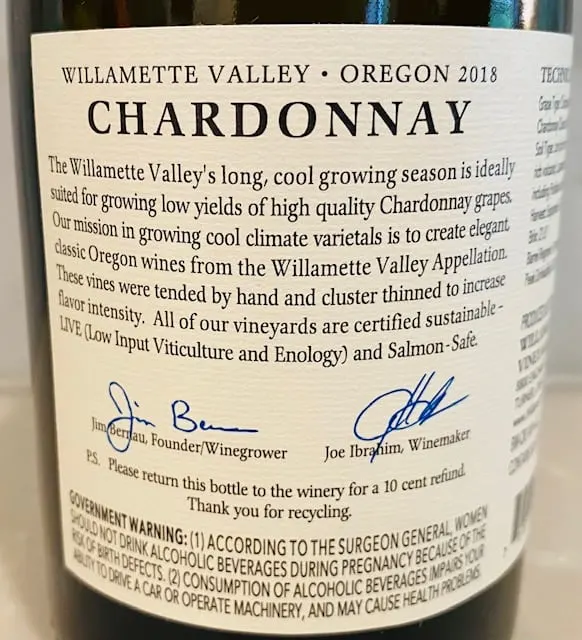 The wine pours a medium gold in the glass; lemony citrus fruit with a hint of vanilla on the nose; in the glass is more lemon, apple and apricot flavors; super clean fruit that shines through with nice acidity. Juicy and minerally in the finish.
This one is definitely on more of the clean fruit, pure side of Chardonnays vs the overly oaky and buttery. The wine has plenty of depth and complexity to remain interesting, and it is certainly food friendly as well.
Retail price is around $25 so Costco's price of $15.99 makes this a fantastic buy. I'm going to put this on our Top Picks list as it's one of the better Chardonnays from Costco that I've tasted recently in this price range.
CostcoWineBlog.com Rating: 90 points (a Costco Wine Top Pick)
Costco item number: 2812
Alc. 13.5%
This wine was received as a sample for the purpose of writing this review. All reviews are written at the discretion of the individual reviewer. Opinions of the reviewer do not necessarily reflect those of CostcoWineBlog.com as a whole, and reviewers are not paid for their reviews by wineries or their affiliated distributors. We at CostcoWineBlog.com believe that wine preferences and opinions are often subjective and highly individualistic. Our scores are based on our individual perception of a wine and how well it reflects the area in which the grapes are grown, the expression of the grapes, and also the quality of the finished product. We remind readers that we are 100% independent of Costco Wholesale Corporation, and are simply of a group of Costco wine fans looking to try new wines and share our favorites with this community.