Outside of a new varietal or region of Kirkland wines making a debut, this is one of the Kirkland bottles I look forward to the most every single year.
The fact that I love Chateauneuf wines coupled with the fact that you generally cannot purchase good ones, if any at all, in this $20 price range makes this a Costco treasure find.
And we've been tasting these for a while. Here's a look back at of our historical ratings for the Kirkland Signature Chateauneuf du Pape.
2018 90 Points
2016 90 Points
2015 89 Points
2014 88 Points
2013 93 Points
2012 91 Points
2011 92 Points
2010 91 Points
2009 91 Points
So lots of 90 points scores over the years. That 2013 vintage really sticks out; I'd love to taste one of those now.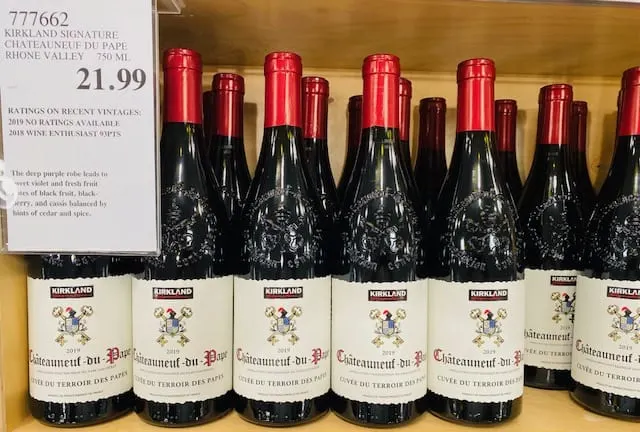 It really wasn't a surprise that the price went up a little this year, up to $21.99 from $20.99, so not too bad. Just a couple years ago you could score this bottle for $17.99.
When I found this new 2019 vintage I bought three bottles, as I commonly do. One to taste now, one to drink whenever down the line, and one to age for a bit longer.
In putting the other two in my cellar I found a 2018 vintage of the Kirkland Chateauneuf, so thought it would be fun to drink them side by side. Plus, I was curious how it would taste after another year in the bottle.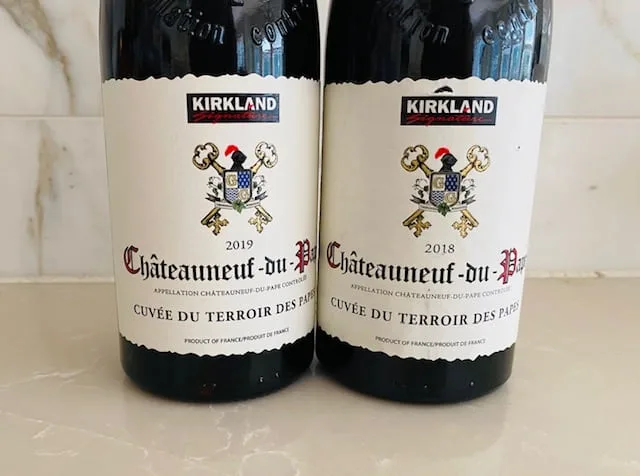 The varietal breakdown is the same for both wines: 70% Grenache, 10% Syrah, 10% Mourvedre and 10% Cinsault.
I tasted them both right on the pour and could tell they needed a little air so poured them into decanters, picking the tasting back up about 45 minutes later.
My first thought on both is that it is almost a sin to drink them so young. They are enjoyable in their youth, but can really develop after a few more years. I now have a few in the cellar for that.
Tasting the 2018 today was very similar to the tasting notes from the last time I reviewed it just under a year ago.
It was also helpful in coming to my conclusion that the 2019 is a good wine, but not the same caliber as the 2018, or 2016. It ticks just a small notch below.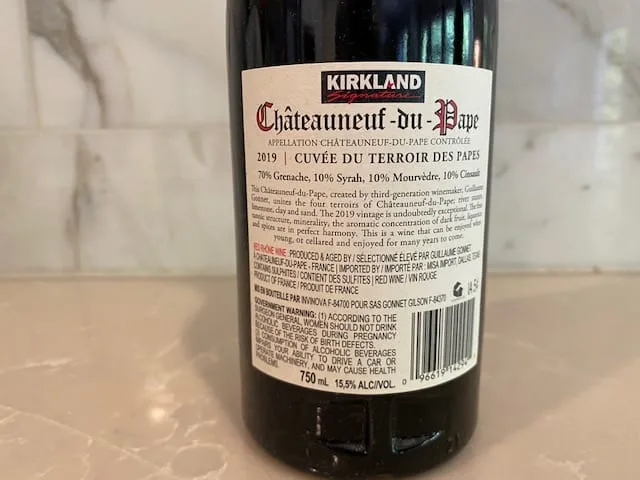 The 2019 vintage pours a medium ruby in the glass; earthy nose, coffee grounds, some dark berry fruit. The wine is medium plus in body with good flavor, mostly dark fruit, blackberry, plum, anise; it is spicy and peppery in the finish with nice acidity.
This is a good wine but perhaps just a little disjointed in its youth. The 2018, while aged that extra year, was a nice comparison and presented a little more structure, more red/dark fruit contrast. It will be fun to see how the other 2019 bottles I bought develop over time.
So I'm bringing the rating down from 90 points on the 2018, to 88 points on this 2019. Again, good wine, plenty to like for many Rhone fans, but coming up a little short for what I hope for from a Chateauneuf, although I could see that changing if I taste it again in a couple years.
CostcoWineBlog.com Rating: 88 points
Costco item number: 777662
Purchased at Costco in: Atlanta, GA
Alc. 15.5%