Look what's back, the Kirkland Chateauneuf du Pape is finally making an appearance after a long hiatus. The last vintage of this to hit Costco stores was the 2016 and it was available almost exactly two years ago. And there are a few important things to note about this new bottle.
First, is the change in the label. Chateau de Nalys, the producer of this Kirkland wine for many vintages, was acquired by Rhone producer Guigal in 2017. So perhaps the change in ownership resulted in the missed vintage? Hard to say.
Guigal makes some fantastic wines, including a standard Cotes du Rhone that occasionally pops up at Costco for only $13. Guigal also makes their own Chateauneuf du Pape as well as some great Northern Rhone wines.​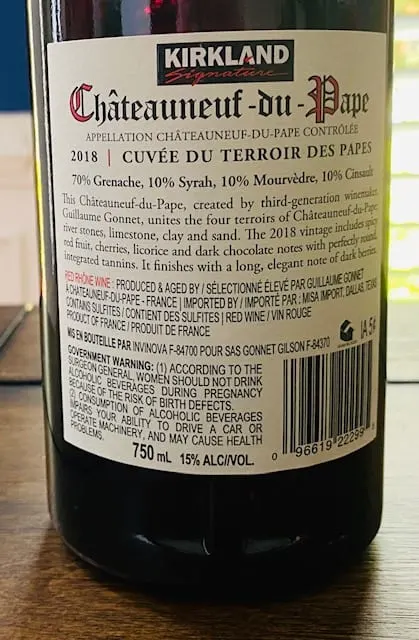 Also, note the language on the back of the label referencing Guillaume Gonnet, whose wine portfolio extends throughout Rhone and beyond. Here's some good info about that enterprise. Their standard Chateauneuf bottling starts around $36.
The next thing to note is the price, $20.99, which is amazing for a Chateauneuf as these wines generally start $10-$20 more, but it is a fair jump from the last vintage that Costco offered for $17.99. So it's still a good price, but I don't like to see it trending in that direction.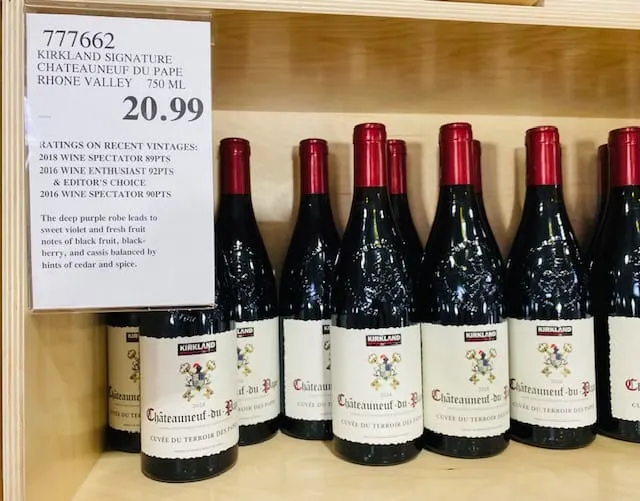 Now let's take a look back at our ratings of some prior vintages of this wine.
2016 90 Points
2015 89 Points
2014 88 Points
2013 93 Points
2012 91 Points
2011 92 Points
2010 91 Points
2009 91 Points
As you can see this one delivers year after year. So let's get into this new 2018 vintage.
The wine pours a medium ruby in the glass; ripe red berries on the nose with a touch of spice; nice fruit flavor both red and dark fruit, spicy red cherry, blackberry and blueberry. Super sticky finish that really digs in especially if you swish the wine a bit.
This bottle really grew on me over a couple of hours, and as the wine had a chance to decant. It's young for a Chateauneuf and the tannins are still pretty sturdy so definitely decant it for about an hour and it'll shine. One of our readers, Russell, wrote in too suggesting sitting on this wine for a few years which I agree with if you have the patience.
We paired the wine with some Green Egg hamburgers and that was tasty. You can almost pair a wine like this with about any cuisine. So outside of the price increase, there's a lot to like here with the new 2018 vintage. I plan to scoop up a couple more to have on hand, and perhaps even to age for our Cellar Series.
CostcoWineBlog.com Rating: 90 points (a CostcoWine Top Pick)
Costco item number: 777662
Purchased at Costco in: Atlanta, GA (Woodstock, I heard it was at Cumberland too)
Alc. 15% (this is up too from 14.5% in the '16 vintage)
Bonus:
In case you missed it, we did a massive round up of Kirkland wines and all of our reviews over the years. You can use this guide to compare all the wines, and we also tracked the month when they appeared in stores, so you can be on the lookout for your favorites throughout the year.
And just one more thing…if you are interested in French wines and want to learn more about the regions, styles, and wine making practices of the major wine areas, I updated our book about French wine. You can find it here.