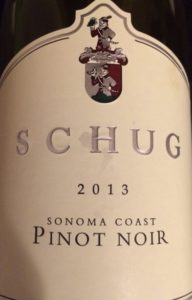 [Reviewed by Josh L]
We drink a lot of Pinot Noirs, ranging from domestic California, Oregon and Washington State, to "old world" versions from Burgundy and "new world" iterations from New Zealand.
And in all of the Pinot Noirs, from all the places in the world, of all vintages, cork vs. alternative tops, blends or single-vineyards (even single blocks), the 2013 Schug Sonoma Coast Pinot Noir is our favorite.  I can't remember anything similar since the now impossible-to-find Bishop's Peak Pinot from 2006.