It's hard to believe it's that time already, but here we are just closing out summer and bam, we get the Costco wine advent calendar hitting stores, alongside Christmas trees and holiday decorations.
This is about the same time of the year when last years Advent Calendar dropped, first week of September. It always seems like a challenge to hold this out for three months and actually enjoy the wines during the day in December they are intended for (we've obviously never been able to get close).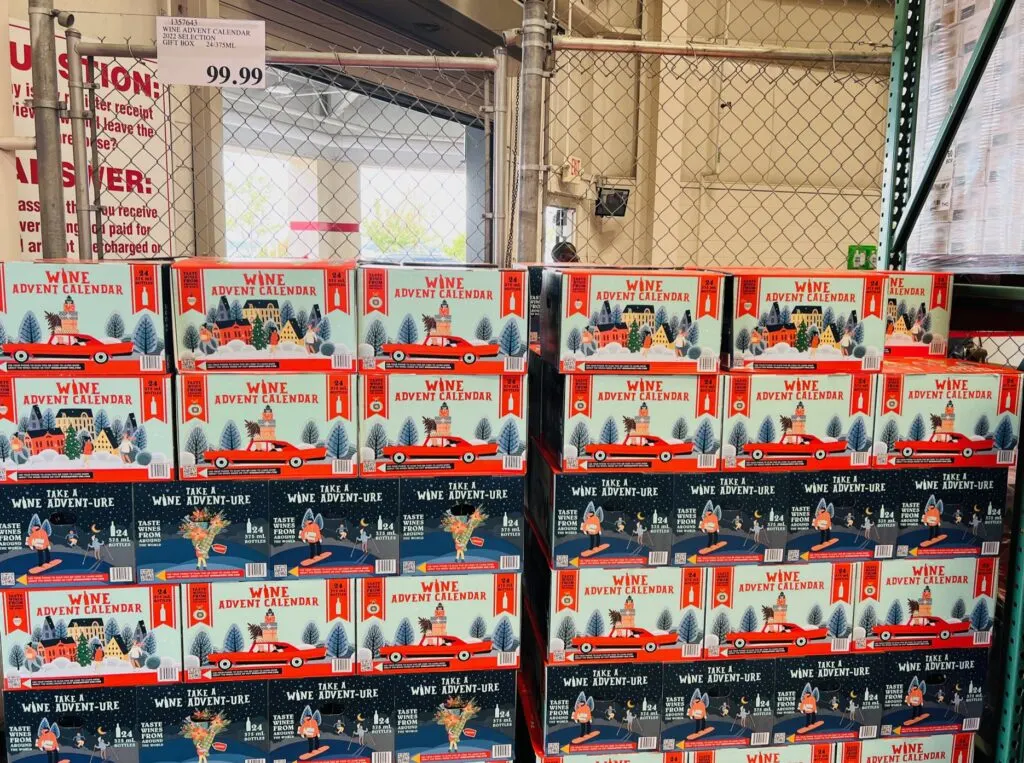 One of the first things you notice is another cool box design. Whoever makes these boxes does a really nice job in our opinion. Catchy, compelling and fun. And they look great stacked like this at the entrance.
The next thing you'll notice is the price has stayed the same at $99.99. From the first box up until last year, the price has remained $99.99. And in past years actually there's even been more than one Costco Wine Advent Calendar, both coming in at $99.99.
That's a relative bargain for the amount of wine you get. Each box still comes with twenty four 375ml bottles (1/2 size of regular wine bottles) for what nets out to about $4 for each 1/2 bottle.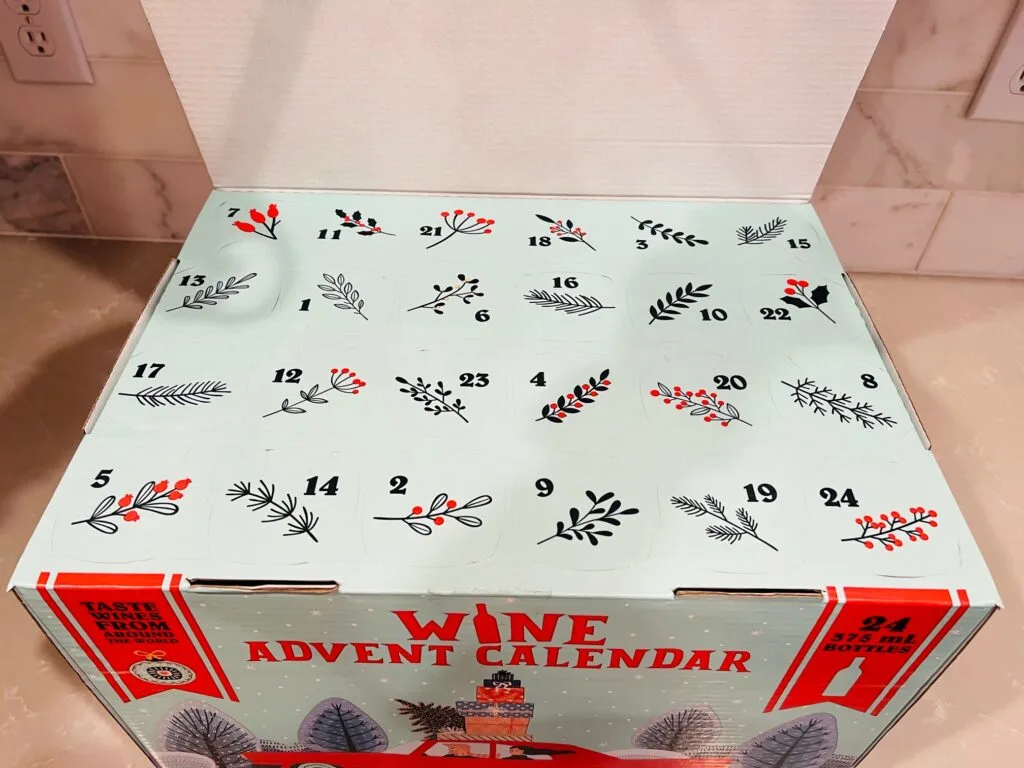 And as we mention in our previous reviews of the Costco wine boxes, these small bottles are super convenient when you want open a few different styles, when you just want a glass of two, or when traveling. We love to start with a white while cooking and move to a red with a meal. This is perfect for that.
There's no indication on the box this year of what wines are inside, so we'll list them at the end of this review for those who are curious. If you have the will power to buy a box and wait until December 1 to begin enjoying them, you might not want to scroll all the way down this page.
But at a high level, they come from France, Spain, Portugal, Moldova, Georgia and Italy to name a few places. There are a couple indigenous grapes in here we've never heard of, so that's always fun. A box like this is a great way to expand your wine knowledge. We learned a lot just writing this up.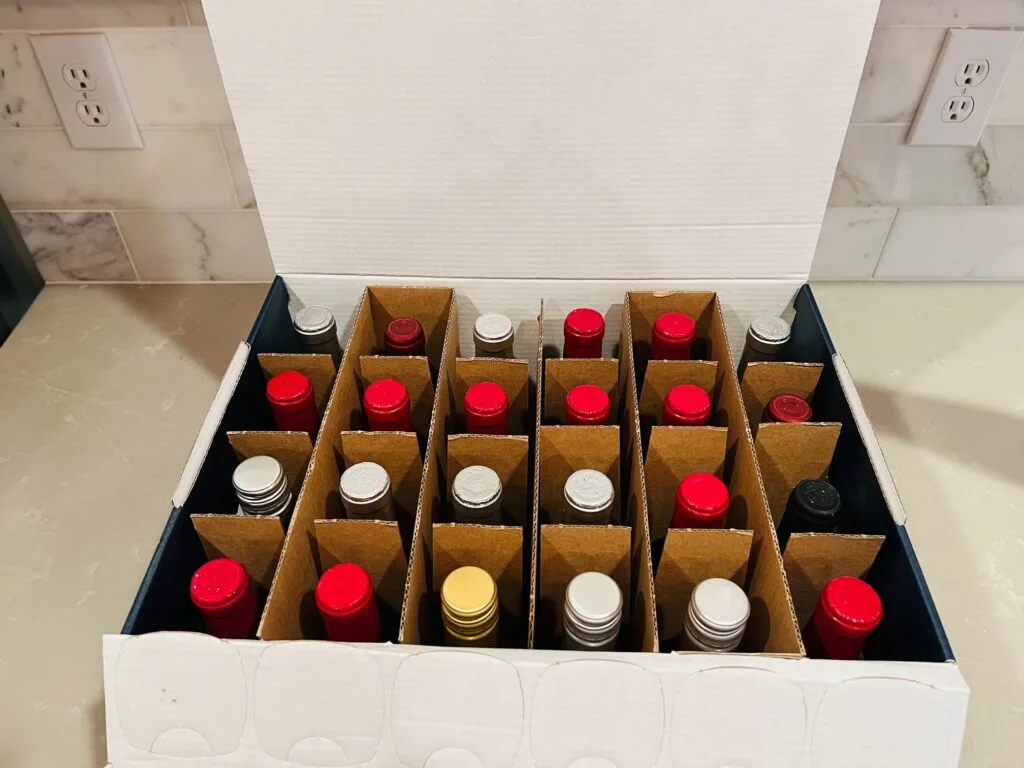 The 2022 Costco Wine Advent-ure Calendar is once again supported by a great website from the producer that has descriptions and background on each wine and a video with additional information. For Australian buyers there's a slightly different website listed this year (which ironically contains wines from last years U.S. box if I'm reading it right).
We'd love to post about each of these wines, but in the interest of getting this information out to you fast, we typically open four bottles to taste and review. Choosing the wines was done completely random by our 11 year old and we ended up with two whites and two reds. There are also a couple of rose wines as part of the box, but no bubbly this time around, which was usually in the lineup for Dec 24.
The wines we tasted and a few notes on them: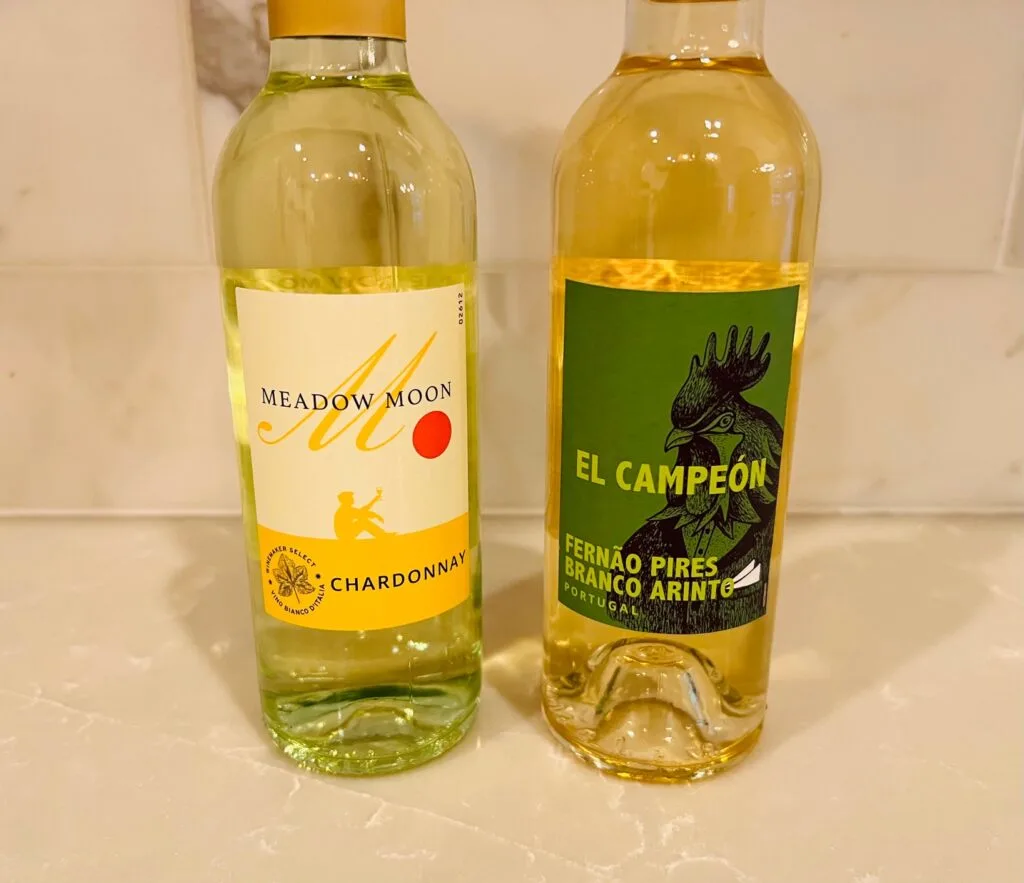 Moon Meadow Chardonnay (Italy)
Pours pretty clear with a light yellow tint; stone fruit on the nose; lemon, lime, citrus fruit flavor, clean, little to no oak. We rather enjoyed this Chardonnay.
El Campeon, Fernao Pires (Portugal)
This is a unique blend of Fernão Pires and Branco Arinto, two native grapes we've never tasted before. The wine is a light gold color with grapefruit and peach flavor; it is bright, crisp and acidic, reminiscent in some ways of a Viognier with a lighter body.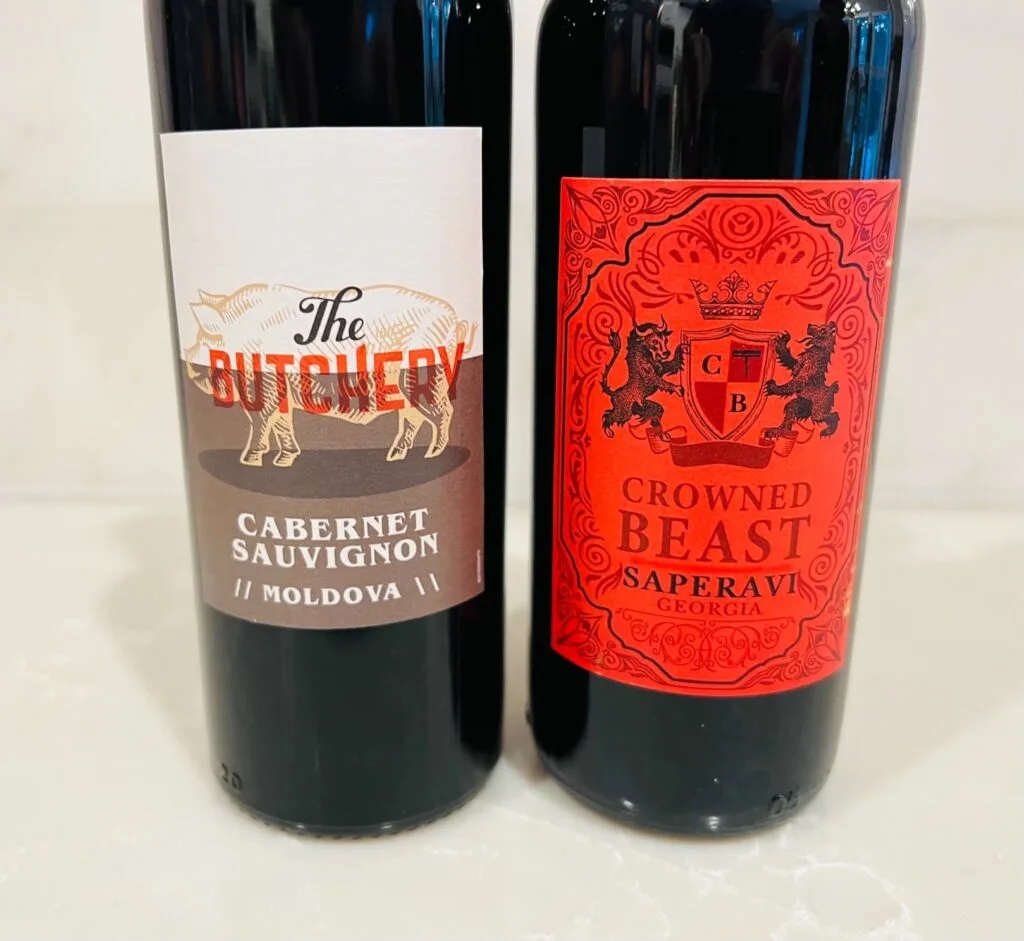 Crowned Beast, Saperavi (Georgia)
This might be the first time we remember tasting Saperavi from Georgia. In the glass this one pours a medium purple with a dusty, earthy nose; mostly dark fruit, the wine is youthful with a little rustic undertone. Super fun to try.
The Butchery, Cabernet Sauvignon (Moldova)
This wine pours a dark ruby with black cherry and red licorice on the nose; it is full bodied with good depth, big and strong; our favorite of the tasting.
So a good start to the box, and we already uncovered a few of the more interesting wines. Stop here if you don't want to know any more of the wines that are included.
Here they are by day.
Day 1 – Right Hook Cabernet Sauvignon (Bulgaria)
Day 2 – Moon Meadow Chardonnay (Italy)
Day 3 – Birds on a Wire, Red Blend (Portugal)
Day 4 – Disheveled Tailor, Königliche (Hungary)
Day 5 – Latitude 40 Grenache (Spain)
Day 6 – Divine Pondering, Pinot Noir (North Macedonia)
Day 7 – Proper Etiquette, Chenin Blanc (South Africa)
Day 8 – Crowned Beast, Saperavi (Georgia)
Day 9 – Pinky Truce Rosato (Italy)
Day 10 – The Butchery, Cabernet Sauvignon (Moldova)
Day 11 – Racer 68, Montepulciano d'Abruzzo (Italy)
Day 12 – Crush, Rivaner (Luxembourg)
Day 13 – Classic Cruise, Tempranillo (Spain)
Day 14 – The Perfect Match, Merlot (France)
Day 15 – Little Ditty, Macabeo (Spain)
Day 16 – Point Taken. This is interesting. According to the Wine Advent-ure Website, you might find either a South African Shiraz or a French Bordeaux.
Day 17 – Here Kitty Kitty, Trebianno (Italy)
Day 18 – Nightfall, Monstrell (Spain)
Day 19 – Ring Ring, Rose (Italy)
Day 20 – Flew the Coup, Syrah (France)
Day 21 – El Campeon, Fernao Pires (Portugal)
Day 22 – Strut King, Rosso (Italy)
Day 23 – Seaworth, Sauvignon Blanc (Spain)
Day 24 – My 2 Cents, Cabernet Sauvignon (France)
That is a really cool lineup and we can't wait to get into this more. It doesn't stand a chance of making it to December.
If anyone else starts poking around their box, please share your comments below.
And one more thing worth noting. There were a couple photos on social media of this box being priced at $139.99. If anyone sees it near them and can confirm the $99.99 pricing that would be helpful. If you see it for $139.99, please share the location you saw that.
Have fun with this one, happy super early holidays, and thanks again for following our site. Cheers.
Costco item number: 1357643
This wine was received as a sample for the purpose of writing this review. All reviews are written at the discretion of the individual reviewer. Opinions of the reviewer do not necessarily reflect those of CostcoWineBlog.com as a whole, and reviewers are not paid for their reviews by wineries or their affiliated distributors. We at CostcoWineBlog.com believe that wine preferences and opinions are often subjective and highly individualistic. Our scores are based on our individual perception of a wine and how well it reflects the area in which the grapes are grown, the expression of the grapes, and also the quality of the finished product. We remind readers that we are 100% independent of Costco Wholesale Corporation, and are simply of a group of Costco wine fans looking to try new wines and share our favorites with this community.