It's here, and it's in stores earlier than ever…the Costco Wine Advent Calendar for 2021. And if you see it, buy it quick. These go fast so grab one (or two) and stash it for a few months if you want to follow along with the calendar.
Lots of big news for this one in 2021, starting with the fact that we heard there will only be one version of the Costco wine advent calendar this year. You might remember last year there were two different versions. Both were good, and it was fun to have all that interesting wine, but this year, there will be only one. So don't pass it up thinking another shipment is going to arrive later.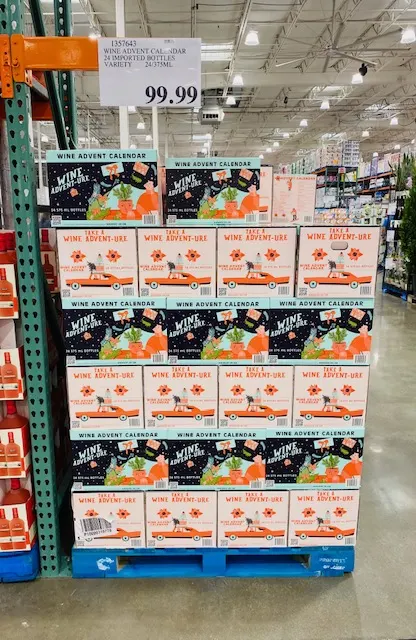 Next big news. The price stayed the same at $99.99. As we've mentioned in year's past, that's a flat-out insane price for all the wine you get. This box comes with twenty four 375ml bottles (1/2 size of regular wine bottles) from around the world (so each half bottle is around $4). We thought for certain the price would jump given how fast these moved last year.
And speaking of the "around the world part"…they did a really nice job with the selection this year. I'll list all the wines at the end of this story, because it's not super clear from just the side of the box what they are, but you'll get wines from France, South Africa, Italy, Bulgaria, Hungary, Spain, Moldova, Portugal and Greece.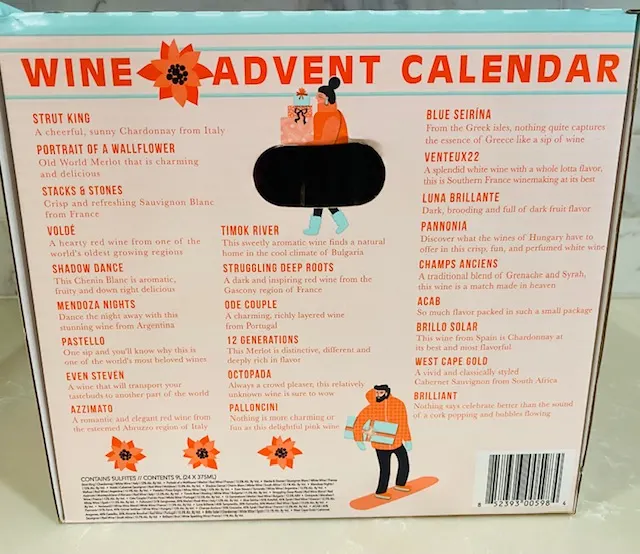 Don't read the end of this story if you want to keep them a surprise (that's the idea why they don't list them). One thing I will say is that there is not one bottle from either of last year's wine calendars that appears in the new 2021 box. So they're all brand new, which is awesome.
And on the topic of the box, what a great design this year. They do such a cool job on these boxes. Gotta hand it to the designer who impresses us every year. It also makes this a cool gift.
So the idea behind the advent calendar is to open one of the bottles every day in December leading up to Christmas. I'm going to have to get another box because I already screwed up that plan. I opened a couple because I wanted to get this review out to you as soon as possible.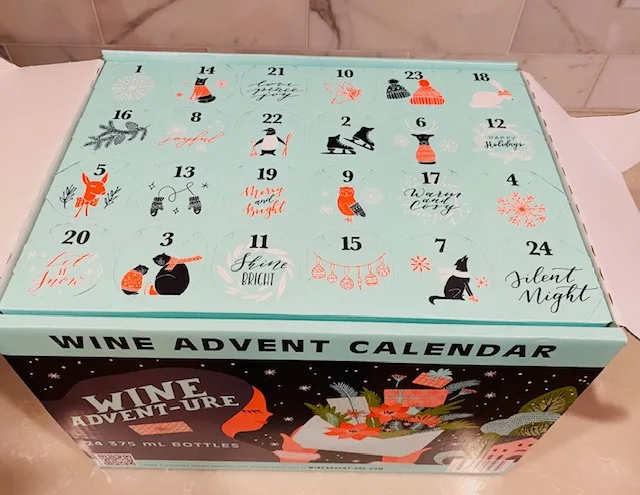 These 375ml bottles are also so handy it's hard not to indulge early on a whim. I've mentioned before I love having them on hand, when you want to pour just a couple glasses, or have a little white and a little red without opening two full bottles of each.
So I couldn't wait; plus I always review a couple bottles in my review of these Advent Calendars. My wife chose two random bottles, which turned out to be numbers 19 and 23. You see in the photo above that you get a perforated circle around the day of the month so you can punch it open and grab a bottle without looking at the rest of the them.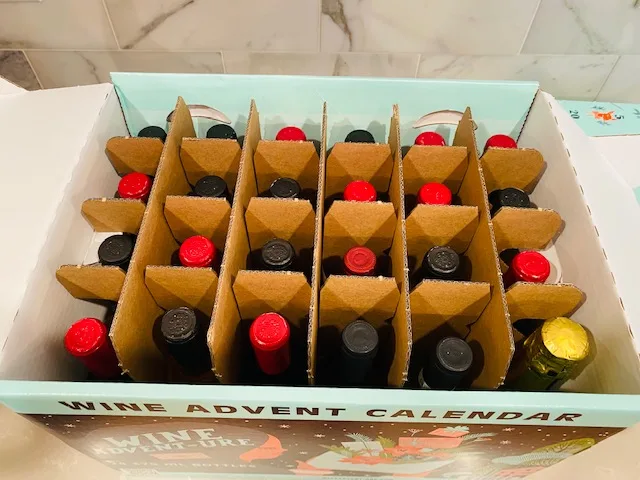 So I'm going to ruin the surprise and give you some tasting notes on wines 19 and 23. I was impressed with the quality of both of them. And 19 was particularly interesting because it includes a varietal I frequently complain that Costco never carries (Gruner). How ironic that it appears in the Advent Calendar.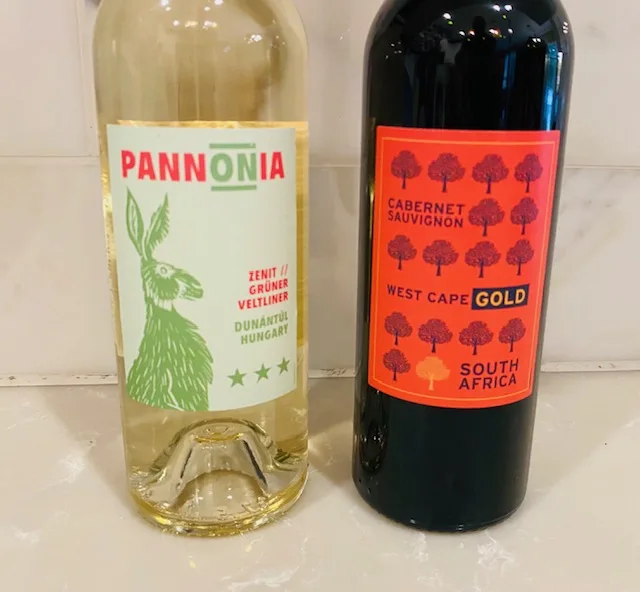 Day 19 – Pannonia Zenit-Gruner Veltliner (Hungary)
I know Gruner and am happy to see that, but wasn't familiar with the Hungarian white grape variety Zenit; turned out to be a nice and interesting combo though. This one pours a pale straw and gold in the glass, juicy citrus fruit on the nose; medium bodied, nice vibrant fruit and acidity, pleasant finish. All around very nice. 12% alc.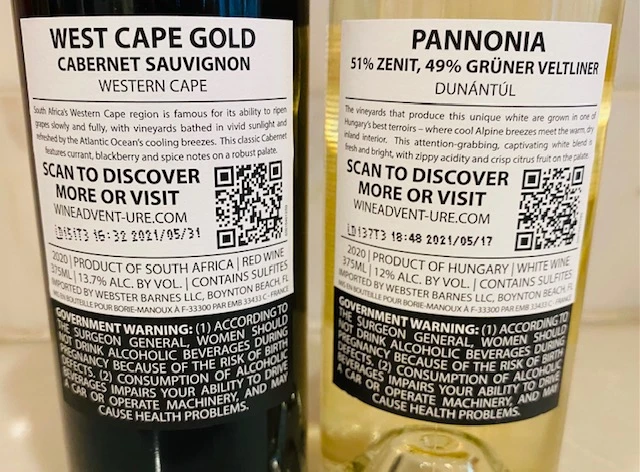 Day 23 – West Cape Gold Cabernet Sauvignon (South Africa)
Pale to medium ruby in the glass, juicy nose of fresh cherry, medium in body, a lighter Cab; flavors of red licorice, black cherry, plum; easy finish. This is a light and easy going Cab; 13.7% alc.
I hope the rest of the bottles are of the same quality as these two as they are both very good, nice representations of the varietal and region, and remain an amazing value at these price points.
As I mentioned there is only going to be one Costco wine advent calendar this year, so you're going to want to reference the correct Costco item number.
If you call your store to ask if they carry this, mention Costco item number: 1357643​. Do not use 1480467, which is the old number for the second wine calendar. I checked with my Costco and it is not in the system.
If you made it this far, you must be really into these calendars like we are. If so, you'll want to pop over to this fantastic website created by the producer with info on the wines and fun videos about each one.
Ok, so now we're going to list all the wines for those who want to know what's in the box. If you want to keep it a surprise, skip this part.
Of the 24 bottles, there are 11 reds, 11 whites, one rosé, and one bubbly.
Day 1 – King Strut Chardonnay (Italy)
Day 2 – Portrait of a Wallflower Pays d'Oc Merlot (France)
Day 3 – Stacks and Stones Sauvignon Blanc (France)
Day 4 – Volde Cabernet Sauvignon (Moldova)
Day 5 – Shadow Dance Chenin Blanc (South Africa)
Day 6 – Mendoza Nights Malbec (Argentina)
Day 7 – Pastello Pinot Grigio (Italy)
Day 8 – Even Steven Torrontes (Argentina)
Day 9 – Azzimato Montepulciano d'Abruzzo (Italy)
Day 10 – Timok River Riesling (Bulgaria)
Day 11- Struggling Deep Roots Cotes de Gascogne (France)
Day 12 – Ode Couple Fernao Pires (Portugal)
Day 13 – 12 Generations Merlot (Bulgaria)
Day 14 – Octopada Macabeo (Spain)
Day 15 – Palloncini Rosato (Italy)
Day 16 – Blue Seirina Kotsifli-Syrah (Greece)
Day 17 – Venteux 22 Cotes de Gascogne (France)
Day 18 – Luna Brilliante Navarra (Spain)
Day 19 – Pannonia Zenit-Gruner Veltliner (Hungary)
Day 20 – Champs Anciens Grenache-Syrah (France)
Day 21 – Aragones Castelao Alicante Bouchet (Portugal)
Day 22 – Brillo Solar Chardonnay (Spain)
Day 23 – West Cape Gold Cabernet Sauvignon (South Africa)
Day 24- Brilliant Brut (France)
There you have it. The 2021 Costco wine advent calendar.
If anyone else "cheats" and gets into these bottles early, post your tasting notes below. We're excited to try them and anxious to hear what you have to say. Cheers.