We're fresh off the heels of reviewing the first Costco wine advent calendar for the 2020 season, known as the Advent-ure calendar, and then bam, there's another one and it looks super promising as well. What a great early holiday gift for Costco wine fans.
The Costco wine advent calendars sold out super fast last year, so be on the lookout on your next visit and don't hesitate if this sounds up your alley after reading this. I received a ton of emails from people last year trying to find them after they had been in stores for a few weeks.
This new second calendar has many similarities and a few differences than the previously reviewed one. One thing they share is the awesome selection of wine, and really that might be the most important part.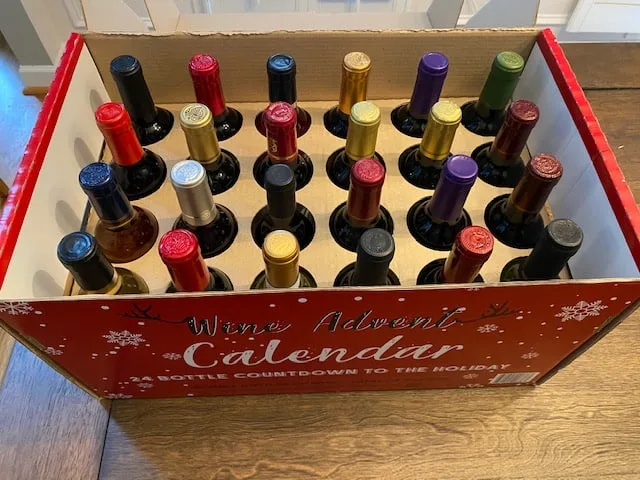 This calendar has wines from around the world – notably from France, Italy and Spain, as well as a few interesting locations like Bulgaria and Slovenia which is fun. And it did include a couple more rosé wines compared to the other calendar.
Overall, the $97.99 pack includes 24 half bottles, so 375ml in size, which we really love having around the house. Maybe you just want to share a single glass over dinner? Or maybe you're sharing wine with friends and want to open a few different wines for everyone to sample.
Personally, I like having a glass of white to start sometimes and to enjoy while we're cooking, then move into a red with dinner, maybe a rosé in between if things are feeling good. That's super easy, and efficient, to do with these half bottles. And if you want a nightcap you can do it without opening a whole new full bottle.
Of course, that's provided that you are departing from the 24 days of planned wine. There are lots of different ways to enjoy this box.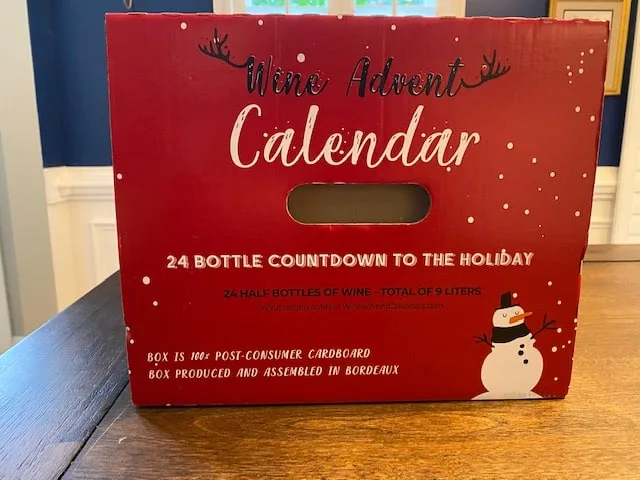 One interesting aspect to this calendar is that the names of the wines are not listed on the outside of the box, so without opening it, you won't know exactly what's inside. This adds to the mystique, and if you can really hold out until Dec 1 without opening one of those perforated circles and reaching inside, then kudos to you.
I couldn't do it, but I also didn't have to try since my goal was to report back to you about all the wonderful wine inside. So here you go. Stop reading now if you want to keep the wines a surprise. I'd also highly recommend the Advent Calendar's website which has a ton of info on the wines and videos from many of the winemakers themselves.
I'm going to start by reviewing four random bottles that we opened and tasted, and then at the end I will list out all of the 24 wines so you know what's inside.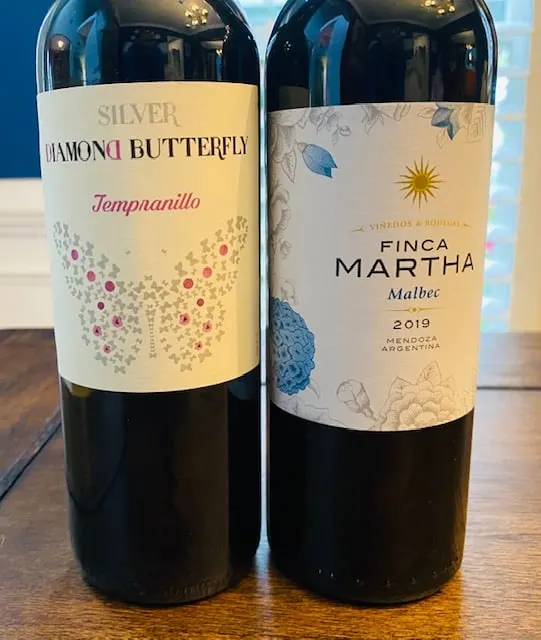 2019 Silver Diamond Butterfly Tempranillo
This wine from Spain's La Mancha region pours a medium ruby in the glass with ripe and juicy, red fruit, raspberry; really dry finish (12.5% alc.)
2019 Finca Martha Malbec Mendoza
This is a spicy and earthy Mendoza Malbec that we enjoyed; nice red fruit, black cherry and plum; finishes dry with some pepper (13% alc.)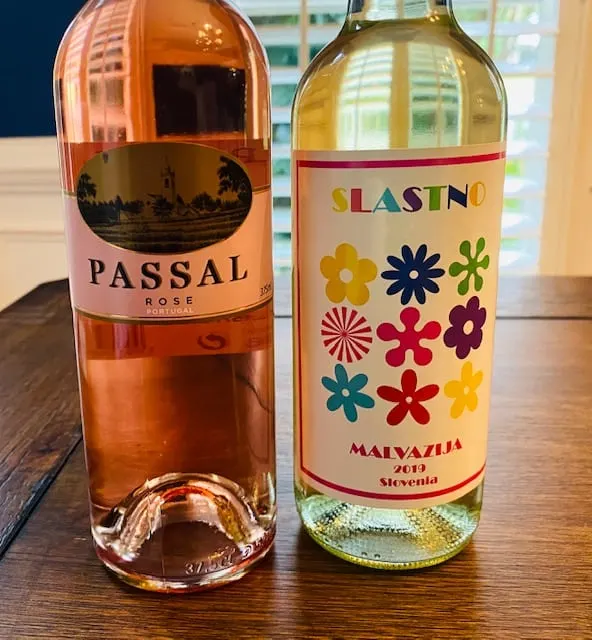 2019 Slastno Malvazija
Here's an interesting one from Slovenia made from Malvasia grapes. The wine pours a medium gold color with peach, white blossom aromas; big tropical fruit flavors; medium in body; this was fun and different wine, reminds me in some ways of a Viognier (12.5% alc.)
NV Passal Vinho Rosé
This is a crisp and refreshing rosé from Portugal; it pours a light pink with juicy, strawberry flavors (12% alc.)
So we are just four bottles in, but off to a great start with this box; I'm happy with the quality of the wines, especially considering we're talking $4 for each half bottle. It's an amazing bargain, and I just think it's a blast to have such an assortment of wine on hand from all different areas.
Following the calendar would be fun too given there's a few surprises in there. It also helps you compare different styles and tastes among the regions without breaking the bank. And that's how you further build your palate.
I'm not going to pick a favorite advent calendar between the two of them because from what I've tasted and my review of the wines inside, they are both solid buys, and will be a lot of fun for the holiday season.
Costco item number: 1480467 ($97.99)
The complete list of wines included in this calendar are below and there's a lot more info on each bottle here:
2019 Silver Diamond Butterfly Tempranillo
2019 Finca Martha Malbec Mendoza
2019 Slastno Malvazija
NV Passal Vinho Rosé
2019 Les Terroirs Corbieres
2019 Soliroy Languedoc
2018 Horizon de Lynch Bordeaux
2019 Quintessence Cotes de Gascogne
2017 Via Vinera Cabernet Sauvignon (Bulgaria)
2019 La Valiniere Bordeaux Blanc
2018 Comte des Bories Bordeaux
2019 Sharkbite White Blend (South Africa)
2019 Filosur Torrontes
2019 Le Moment Rosé
2019 Belle Vallee Bordeaux Clairet (Rosé)
2019 Convento da Gloria Tinta Roriz (Portugal)
2018 Chevalier de Lynch Cabernet Sauvignon
2019 Volantis Cabernet Sauvignon (La Mancha, Spain)
2019 Beauroy Cabernet Sauvignon (France)
NV Monte Do Enforcado White (Portugal)
2018 Milfort Cabernet Sauvignon Bordeaux
2019 Il Bomb Pinot Grigio Delle Venezie (White, Italy)
2019 Tini Sangiovese Toscana
2019 Il Principe Cabernet Trevenezie
If you missed our review earlier in the week of the other Costco Wine Advent Calendar for 2020, you can view it here.
This wine was received as a sample for the purpose of writing this review. All reviews are written at the discretion of the individual reviewer. Opinions of the reviewer do not necessarily reflect those of CostcoWineBlog.com as a whole, and reviewers are not paid for their reviews by wineries or their affiliated distributors. We at CostcoWineBlog.com believe that wine preferences and opinions are often subjective and highly individualistic. Our scores are based on our individual perception of a wine and how well it reflects the area in which the grapes are grown, the expression of the grapes, and also the quality of the finished product. We remind readers that we are 100% independent of Costco Wholesale Corporation, and are simply of a group of Costco wine fans looking to try new wines and share our favorites with this community.