Here's an interesting Costco wine item that one of our readers, Eric N, first alerted us to on Twitter. This trend in alcohol related advent calendars seems to be really catching on. I know Aldi has one or two. And I've heard that Costco has a beer Advent Calendar too but haven't seen it in stores near me.
Today we're going to look at the Wine Advent Calendar at Costco that includes 24 different half bottles (375ml) of different varietals from around the world. Costco's price is $99.99, so you're getting a lot of wine for the money. And between the different styles of red, wine and bubbly, there's definitely something for everyone inside.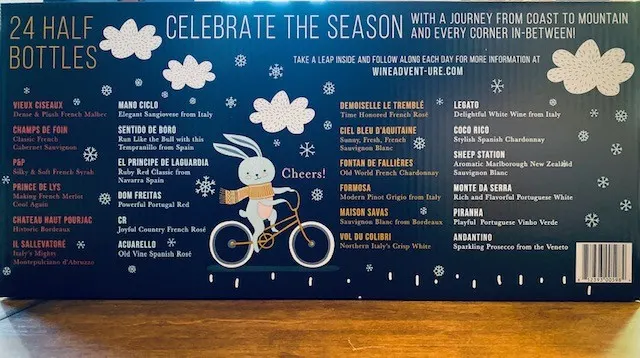 The box is enormous, pretty heavy and very creatively laid out. The first thing you notice is the top that opens up like the wings on a Tesla Model X. Underneath is a top cover with circular holes and calendar dates that can be punched through to grab the bottle below.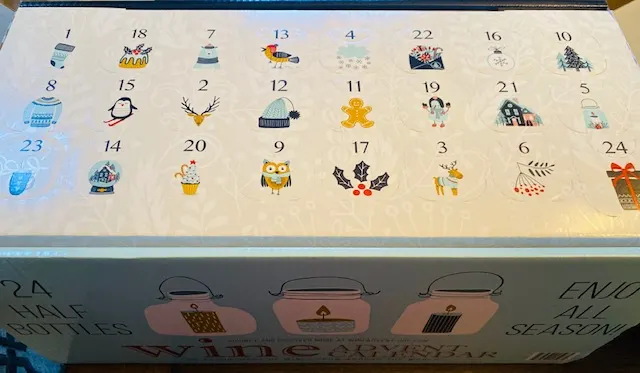 I like how they stagger the numbers rather then follow a linear order; if you open the cover you can see all the wines below, but you'll never be able to tell which one's for which day without referencing the cover on the other side. It adds a bit of mystery to the whole thing, and makes it easier to do the calendar on the set schedule with no cheating.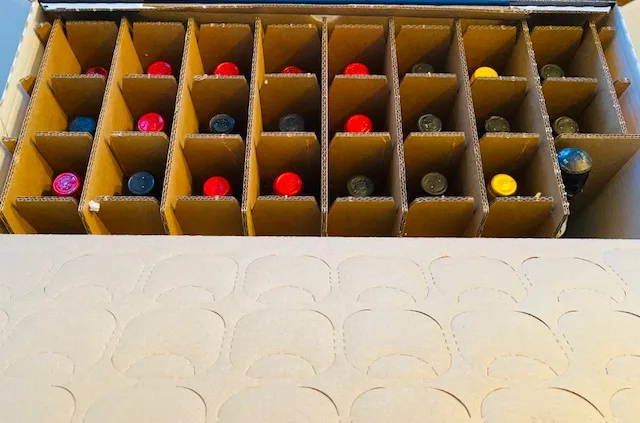 Since I knew this item was already in Costco stores, I wanted to get this review up as soon as possible. We've never really reviewed an item like this, so I wasn't positive how to do it, and do it quickly. If I were to follow the calendar, I wouldn't be done until Christmas.
So we decided to pull four random bottles and sample them to see how the wine was. Overall, our takeaway from the tasting was that the wines are good representations of the varietals and regions from which they originate. Having 24 half bottles is also super handy when you just want a couple glasses with dinner.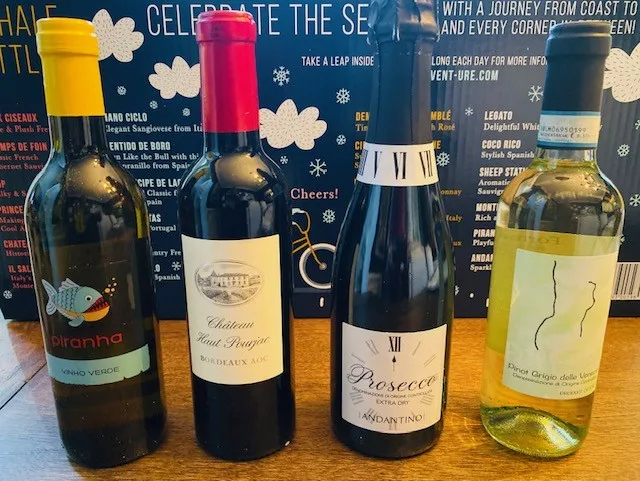 Let's look at the four bottles we tasted:
2018 Chateau Haut Pourjac Bordeaux
This was a young, juicy and fruity Bordeaux as you would guess since it's such a new vintage; there was a touch of spice and dark fruit flavor throughout. The wine had a good dusty, dry finish.
13% alc.
NV Andantino Prosecco
This prosecco had flavors of pear, green apple and white peach; it was crisp with a dose of sweetness towards finish.
11.5% alc.
2018 Piranha Vinho Verde
The Vinho Verde was medium in body, with a slight effervescence; flavors of citrus, tangerine and orange.
9.5% alc.
2018 Formosa Pinot Grigio Delle Venezie
This Italian Pinot Grigio was clear on the pour, light and refreshing; flavors of lemon/lime, nice acidity. It would make a good dessert wine to pair with something sweet.
12% alc.
Like I said before, there's a lot of wine here, and a nice sampling of different styles. If you're curious about what each of the 24 bottles are you can visit the Wine Advent Calendar website to read more about all of them.
All in all, this is a really fun item, at a very fair Costco price. The presentation is well done, and if you're like me, and love to indulge in a bit of extra wine throughout the holidays, having 24 half bottles on hand will help keep the party rolling.
Costco item number: 1357643
This wine was received as a sample for the purpose of writing this review. All reviews are written at the discretion of the individual reviewer. Opinions of the reviewer do not necessarily reflect those of CostcoWineBlog.com as a whole, and reviewers are not paid for their reviews by wineries or their affiliated distributors. We at CostcoWineBlog.com believe that wine preferences and opinions are often subjective and highly individualistic. Our scores are based on our individual perception of a wine and how well it reflects the area in which the grapes are grown, the expression of the grapes, and also the quality of the finished product. We remind readers that we are 100% independent of Costco Wholesale Corporation, and are simply of a group of Costco wine fans looking to try new wines and share our favorites with this community.