Most of the time when we're browsing the wine selection at Costco, we look at the labels, the price, maybe read the description on the white price tag and check out the point ratings.
But each one of Costco's wine tags is packed with valuable information that you can use to learn more about the wines and the potentially discounted price. Plus it's a trick that applies to other items throughout the store.
So arm yourself with this information and get ready to be a more informed shopper on your next Costco trip.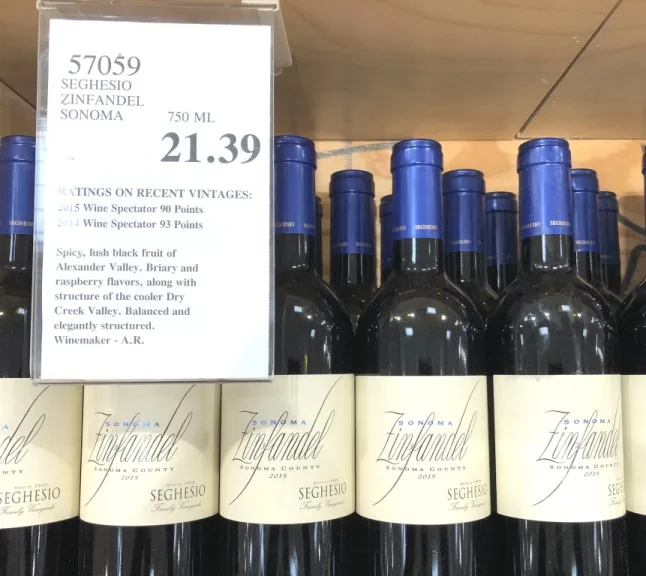 Look at the price. If the price ends in $.97, it is a mark down from the regular price which would end in $.99. If you see a more unusual ending to the price, such as $.49 or $.79, or in the case of this wonderful Zinfandel above, $.39, this typically means that Costco worked a special price with the producer, so you might not find it for less anywhere else.
Look for an Asterisk. Check out the top right corner of the tag to see if there's an asterisk like you see in the photo here. If a wine (or other Costco item) has an asterisk it means that it's a clearance item and it will not be restocked. This is hugely important for wine buying as it lets you know that you should stock up while you can, if so desired.
Pay special attention to wine markdowns. It doesn't happen a lot, but sometimes you'll see $5 off or $7 off a particular wine for a period of time. These typically represent very good buys, taking Costco's already great price even lower, sometimes 10-20%. For example this recent red blend from renowned winemaker Tuck Beckstoffer is usually $20 (actually $19.79), but for a period of time was available for $15, which is a screaming deal.
One more bonus tip, and I know this one is a little harder to do unless you are perusing the wine aisles regularly like we do, but pay attention to any price changes on the wines at Costco.
Occasionally when something is not moving, Costco will creep the price down but not indicate the discount anywhere. The price on the tag will just be less. These are wines you will want to pounce on too if you're interested as clearly Costco is trying to move the inventory.
I've seen bottles of Bordeaux originally priced at $45 inch their way all the way down to $17. It doesn't happen a lot but it does happen.
And there you go. I hope that helps you on your next trip to Costco, and be sure to subscribe to our email list if you want to receive our latest Costco wine reviews (two a week, no spam or sharing ever).
– Andrew, Editor