We've all heard of Super Tuscan giants Sassicaia & Ornellaia. Costco even sells Sassicaia for the everyday low price of $197 per bottle. These wines became famous in the 70s when wine critics started to recognize that the quality rivaled that of high-end Bordeaux.
At the time, Bolgheri, merely just another area for Italian wine production, was producing mostly IGT and VdT wines based on typical Bordeaux varieties, which tend to grow well there.
In 1994, the Bolgheri DOC was created to finally give these quality wines the status designation they deserved. Today, even the least inexpensive Bolgheri DOC wines are going to cost you around $20 per bottle.
"Il Bruciato," meaning "the burned" is the second wine of Antinori's Tenuta Guado al Tasso. The flagship wine, known simply as "Guado al Tasso" is named after the large vineyard in Bolgheri in which the grapes are grown.
Il Bruciato is a more approachable and contemporary style of wine than the estate wine. The blend is 60% Cabernet Sauvignon, 20% Merlot, and 15% Syrah. Aged for 8 months in barriques and an additional 4 in the bottle, this wine could very well lay down for a few years or be enjoyed with this evening's meal.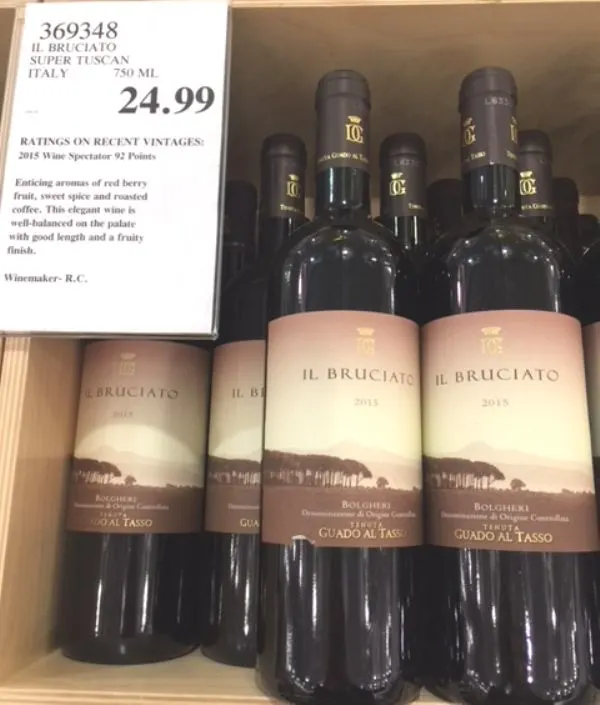 What really stood out to me about this wine was the structure and length of the finish. You can really taste the quality of this juice, and the grape tannins left my teeth and tongue stained. I would recommend drinking this with a meal instead of on its own. It's a fairly big wine, relatively speaking, and would benefit from a good decant.
Wine Spectator gives the 2015 vintage of this wine its highest rating thus far at 92 Points and a "Smart Buy" designation. The reviewer states that the wine "features grip and a lingering finish," which is also the main selling point I took note of. A core of dark fruit and baking spice frame subtle notes of chocolate and licorice. Everything is well balanced.
Over 5,000 people have rated this wine on Vivino, and it currently sits at a solid 4.0 rating. While there is plenty of room for user error on apps such as this, which could ultimately lead to inaccurate ratings, I find that most wines with 4.0 stars and above are of substantial quality and value. This wine is no exception.
While Costco's $24.99 price tag isn't necessarily an amazing bargain (one can find it similarly priced online as well as at local wine shops), the wine itself is value-priced.
CostcoWineBlog.com Rating: 91 Points
Purchased in Buford, GA
ABV: 13.5%
Costco Item Number: 369348