Here's another interesting Costco wine find – a single vineyard Cabernet Franc from Mendoza, Argentina.
This wine also appeared in Wine Enthusiast's 2019 list of "Top 100 Cellar Selections" (in spot #88, recommendation to drink until 2030) and the outlet rated the wine a nice 92 points. Suckling also went 93 points on it.
Retail price on the bottle is listed at $20 making Costco's $13.89 look pretty solid. I like single vineyard wines as they offer a true sense of time and place, and that's exactly what I experienced with this bottle.
It pours a deep dark ruby about as dark as it gets; earthy, herbal, vegetable garden aromas on the nose; full bodied, mouth coasting and big but well made with some finesse that became even more apparent after the wine got some air.
Flavors of red and dark fruit, black cherry, blackberry, plum, anise, a little smoke in the finish; really nice acidity, dusty and dry into the finish.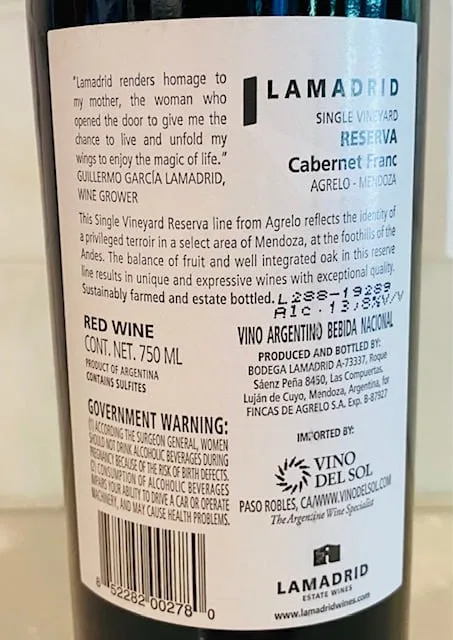 I don't have a lot of straight Cab Francs in my cellar so was curious about this bottle appearing on a list of ageable wines. Could it age until 2030 as Wine Enthusiast projects? I'm going to say yes. It has the higher acidity and tannins for the long haul. It's also drinking pretty nice right now.
At this price, you can buy a couple and maybe stash one away for a later day. 90 points earns it a spot on our Top Picks list.
CostcoWineBlog.com Rating: 90 points (a Costco Wine Top Pick)
Costco item number: 1199269
Purchased at Costco in: Atlanta, GA
Alc: 13.8%