I heard from readers that the latest vintage of the Kirkland Brunello starting appearing in stores last week, and I tried twice to find it before finally running into it today.
What no one mentioned is the huge news that's apparent right away.
A new label? Yes, but that's not it.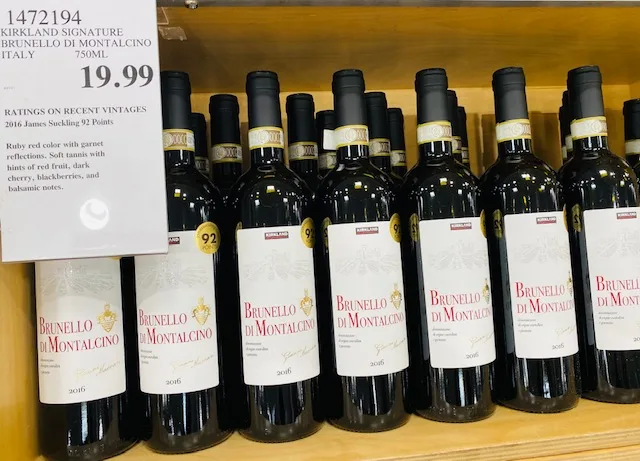 How about a price cut. Down to $19.99. This bottle has never been that low. Even the inaugural 2010 vintage (which was one of the best by the way) was $25. In the past couple vintages, this wine was selling for $26.99.
And that's a good price for Brunello. $19.99 is almost unheard of for wine from this premier Italian region.
Note that along with the price change came a change in the Costco item number. Make sure to use 1472194 if you call your store to check on availability.
Let's look at some of our scores on the Kirkland Brunello because I think we've tasted and recorded notes on all of them.
2010 – 92-93 points
2011 – 86 points
2012 – 87 points
2013 – 88 points
2014 – 88 points
2015 – 89 points
Man that 2010 was good. I still remember it. After that, all good scores, high 80's and ascending, almost cracking 90 last year. You can see on the placard above Suckling went 92 points on this new 2016 vintage.
And 2016 was a dynamite year for Brunello so we were psyched to get into this one.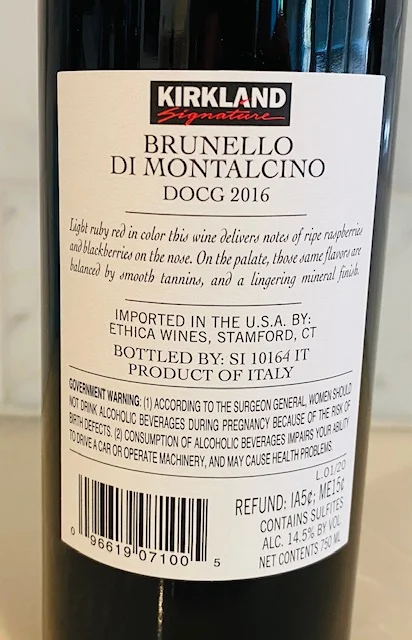 The wine is a deep garnet color in the glass; vibrant nose of red fruit and pepper; more red fruit in the mouth, flavors of cherry, strawberry and raspberry. The wine tastes youthful, leading me to peg it as a '18 or '19 rather than '16 vintage.
Great depth, medium plus in body with good acidity. Really solid finish. This one is just near perfect all around, inviting you back for sip after sip.
This vintage is everything I hoped it would be, and the price discount is just a bonus. I've had several readers ask me about wines to age that are priced around $20, and you don't find too many. But this one could definitely run for a while and likely develop further.
We'll be adding to our Recommended wine list. Thanks Costco.
CostcoWineBlog.com Rating: 91 points (a Costco Wine Top Pick)
Costco item number: 1472194 (used to be 1001151)
Purchased at Costco in: Atlanta, GA (Kennesaw)
Alc. 14.5%