Several readers alerted us last week that this new Kirkland offering was hitting Costco store shelves, and I was able to find it this weekend.
The price for this Barolo is $19.99, which falls right in the ballpark where we see many higher end Kirkland wines (Pauillac Bordeaux, Chateauneuf, Brunello, Champagne). In each case the Kirkland price is a fraction what you would normally pay for wines from these premier regions.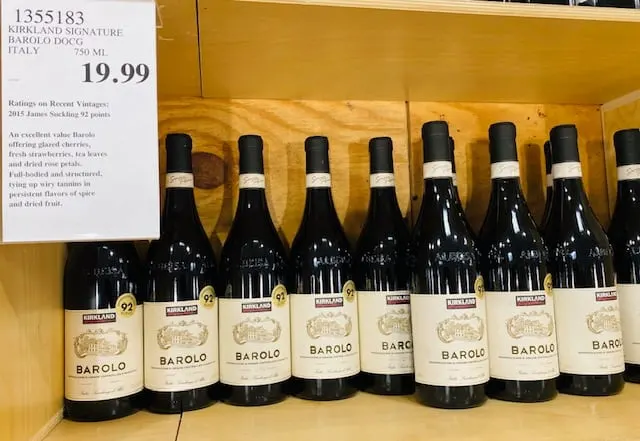 I couldn't wait to taste it, and I'm happy to report that it hit me right on all fronts. This is a delicious wine for the money and a nice new addition to the Kirkland family of wines. Barolo wines start at $30 (and sometimes aren't that great), and go up from there into the several hundred dollars a bottle. So for $20, we have found a winner here.
The wine pours a medium garnet color and it is light enough that you can slightly see through it in the glass. On the nose is dried red fruit and a little spice; medium plus in body with flavors of spicy black cherry, a little blackberry, some anise and pepper towards the finish that is ultra dry.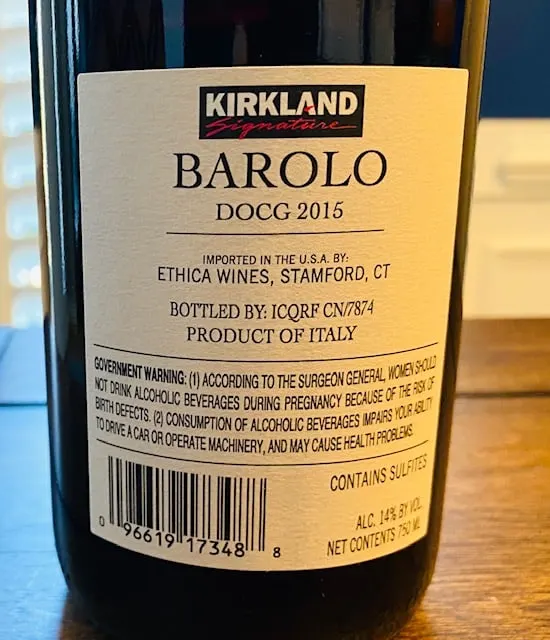 The back of the label doesn't offer up too much information on the producer, but I did see a little hint around the top of the bottle. There's a band around the top with the name Simone Tablino written in cursive. (Pretty sure that's what it says, but if anyone sees that differently, let us know).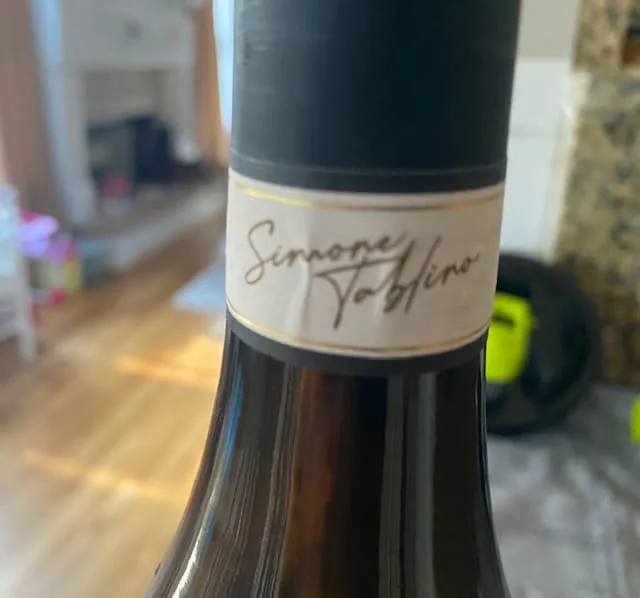 I tried Googling the name (and some other variations) along with "Barolo" and other related search terms but didn't come up with a lot. The main link I found was to a collection of wine reviews written by someone with that name. So I'm not sure what that represents, and remain kind of curious about it.
Overall, I'm really happy to see this new Kirkland offering and it's offered at a very fair price. Italian wine fans will find a lot to like here, and this bottle makes makes it easy to enjoy a really nice wine more often than just a special occasion when you might be paying two or three times as much for a wine like this.
CostcoWineBlog.com Rating: 92 points (a Costco Wine Top Pick)
Costco item number: 1355183
Purchased at Costco in: Atlanta, GA
Alc. 14%