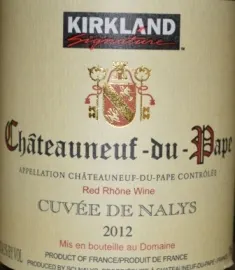 Alright, here's one I know a lot of readers have been interested in – the 2012 vintage of the always awesome Kirkland Chateauneuf. I've been anxiously waiting to get my hands on one of these given the amount of reader comments I've already received singing the praises of the current offering. And I'm a fan too.
At $19.99 it's hard to find any Chateauneuf wines, and even harder to find a good one. That's where these Kirkland bottles come to play. This wine is comprised of Grenache, Syrah, Cinsault, Vaccarese, Counoise, and Mourvedre (essentially the same varietals as last year – see 2011 review – but I'm not certain of the blend amounts in 2012).
The wine gets goes fast, right on the nose. Aromas of earth, spice, very vibrant. The wine is medium to full in body, juicy tannins and has deep dark fruit flavors of blueberry, blackberry, leather; leads into a slightly dusty dry finish with the wine fully coating the mouth for quite a while. This is a wine that is excellent right now, but will really be interesting after a few more years of maturity in the bottle. I'm probably going to sit on a couple of these to compare with the 2013 next year.
Excellent wine, and big value here. Great with all types of food. One of my favorite Kirkland offerings, and perhaps one of the best picks in the warehouse right now.
CostcoWineBlog.com Rating: 91 Points
Costco item number: 777662