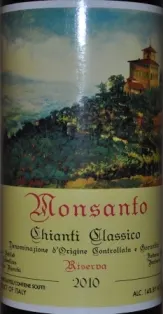 If you walk into Costco and have $20 to spend on wine you'd be served quite nicely buying a bottle of this Chianti. This is a splendid Italian offering that was $18 at my Costco. It's just an elegant wine, perfect in so many ways, that is an incredible find in this price range. I'm going to buy 2-3 of these on my next visit to set aside in the cellar.
Lots of floral and pot pourri aromas to the nose; the wine is almost see through on the pour (looks like a Pinot in the glass), but shows its true self the minute it hits the mouth. The body is fairly medium and tannins are light and subtle; the wine just eases in and serves up great dark fruit, blackberry, tobacco and spice, leading to a finish that's dusty, dry and lasting.
The wine is comprised primarily of Sangiovese (90%) with smaller parts of Canaiolo and Colorino. It's pretty perfect all around, and gets even better as the wine sees some air. This is why you shop at Costco right here. I would buy this one while you can.
CostcoWineBlog.com Rating: 92-93 Points
Purchased at Costco in: Atlanta, GA
Costco item number: 34484