A little bird told me that this wine was coming to Costco before it ever even arrived. The wine appeared suddenly at a couple of stores and sold out almost immediately.
Then the following week, a few more cases were distributed, and then this week, seven cases to the Costco down the street from where I work.
I thought I had missed my chance with this wine, but there it was. This "pocket wine" legend was staring me in the face with its abnormally heavy and embossed bottle.
For $15.99, of course I had to try it. I knew nothing about it except that it was Italian, "hot," and apparently not going to be re-ordered, indicated by the asterisk on the item sign.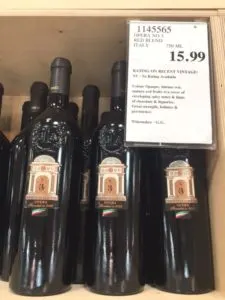 When I Vivinoed this wine (yes, that's a verb) it came up "Ca' de' Rocchi Vinum Italicum N3 Opera 2005." This wine, however, is not a 2005.
It is non-vintage but has "Founded in 2005" written below the name, which must have confused more than one person. I always tell people to pay attention to wine labels. There is lots that you can learn about what's inside the bottle by reading what the label includes, and by also noting what it doesn't.
This "Vino Rosso" is a blend of grapes that have been "personally selected by Gian Andrea Tinazzi," according to the back label. There is also a map of Italy with the regions outlined. Three of those regions, Sicilia, Puglia, & Veneto are filled in. Perhaps this is where the grapes come from? The tech sheet for the wine does not specify.
The nose jumps out at me with ripe red fruits- I'm thinking warm climate grapes. The palate is medium-bodied and fairly simplistic with subtle tannins and a decent amount of residual sugar for an Italian wine. I immediately thought "fruit punch." The finish is somewhat lingering but a little hot.
I prefer not to rate this wine because I don't know what pretty little box to put it in. If you happen to come across this and are as entranced by the bottle as I was, or if you've already purchased it, let me know what you think in the comments below. I'd love to hear your opinion.
Purchased in Cumming, GA
Costco Item Number: 1145565
ABV: 15%