A few weeks ago we published a huge update to our popular post "The Definitive Guide to Costco's Kirkland Wines" and in the process of combing through all the Kirkland reviews of past and present, it brought to light an old classic bottle that we knew we had in the cellar still.
We're talking about none other than the Kirkland Pauillac Bordeaux, which was only produced for two vintages, 2014 and 2015. And it's a real bummer because it was a delicious wine from a top region, and back in 2016 you could score it for $22.99 a bottle.
We also get a lot of questions from readers about Costco bottles to cellar, and this one would definitely make the cut. We noted in our original post, we would cellar a bottle, so tasting it again, now seven years later, how did it hold up?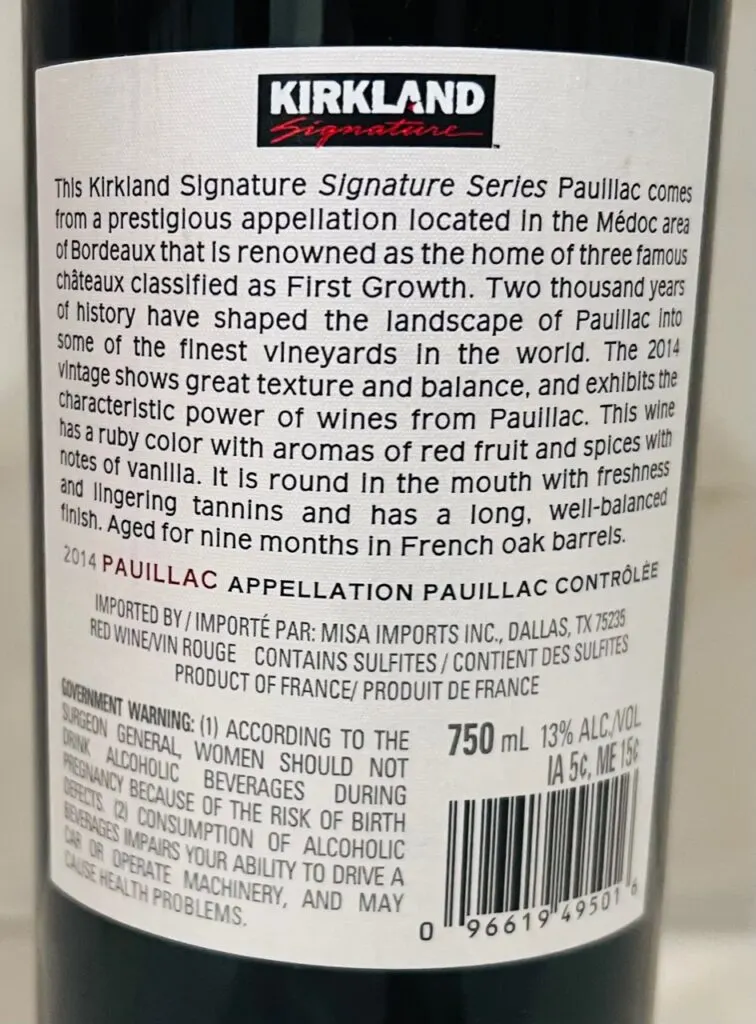 The short answer is, pretty good. The nose was spot on, classic Bordeaux, alive and vibrant. In the mouth the wine had good flavor, but came up a little thin in body and finish; not quite the robustness we originally noted.
We tasted this with a good friend with deep experience with aged Bordeaux, and we all concurred that this wine was probably intended to be drank a bit younger; perhaps made with younger vines from the Pauillac property.
Our best guess is that the ideal window is somewhere in the middle of when we posted the original review (2016), and when we tasted it today, so maybe 2019-2020.
But it was fun to get back into an old classic, and this is why aging wines is so much fun; there's always something to learn.
We still have one of the 2015 Kirkland Pauillacs in the cellar. Might be time to get that one out now. 2015 was a better year in Bordeaux and we rated the 2015 a point higher than the 2014, so it's possible the ideal drinking window is right now.
If anyone else happens to be cellaring these wines, and feels like opening them up, please do share your thoughts too.
Hope you enjoyed this post that is a little different than our usual reviews. Cheers.
And don't miss: The Definitive Guide To Costco's Kirkland Signature Wines