I know several of you saw this one hit stores a few weeks ago, and it finally made it to me. I was excited, not only because I needed to get a review out to everyone, but also because I love good Bordeaux and find these wines to be tremendous values.
The 2014 vintage was a lovely wine, one that we went 91 points on, and felt that it could benefit from a few years in the bottle. So I have a couple in the cellar I plan to crack later.
2014, from a vintage perspective, was the return of France. '14, '15, and '16 in France are shaping up to be monstrous vintages following the decent '12-'13 vintages. Luckily for us '12 and '13 were huge in California, so I'd stock up on those years from CA now (plus '14 from CA), and get ready to fill your French wine void as these newer vintages start hitting stores.

This was my first taste of a '15 Bordeaux, and although a little tight at first, I could tell we had a winner on our hands. This is exceptional juice for only $22.99, and a step up even from last year.
Pauillac is a left bank Bordeaux which means that it is a Cabernet Sauvignon based blend, and may include smaller parts of Merlot, Cab Franc, Carmenere, Petit Verdot and Malbec. I wasn't sure what the varietal breakdown was on this bottle but they did a great job. I'd guess a little lighter on the Cab Franc, as I didn't get as many vegetal/bell pepper notes on this vintage as I did on the '14.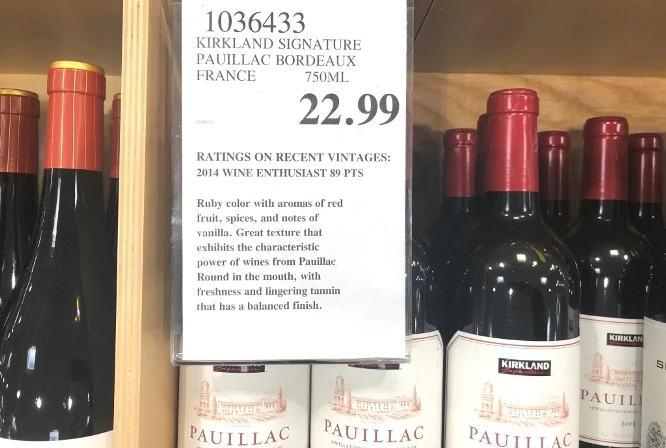 This wine is a combo of red and dark fruit, oak accents towards the finish which is super dry. Nice depth throughout and amazing mouthfeel that I expect will only develop further with age. That said, I'll probably have to lay down a bottle or two to try back to back down the line with the '14 that's in the cellar.
Otherwise, I'd say the '15 is drinking better young than the prior vintage, so have at it now. Give it a little decant to open up. This is strong buy and a perfect example of why you should shop for wine at Costco. Hope you enjoy as much as I did.
CostcoWineBlog.com Rating: 92 Points (a CostcoWineBlog Recommended Wine)
Costco item number: 1036433
Purchased at Costco in: Atlanta, GA (Kennesaw)
Alc. 13%