Here's a great pick if you're looking for an easy going, affordable summer wine to stock up on and enjoy all summer long.
Italy is a really good place to look for Pinot Grigio, as we've written about before, and this bottle is a perfect example of the favorable quality to price ratio you can find.
Costco's price is $6.89, which looks to be on the lower end of what I could find the wine selling for online; a few outlets sold it as high as $12. It's a Sicilian wine made with organic grapes that benefit from the ideal Mediterranean climate.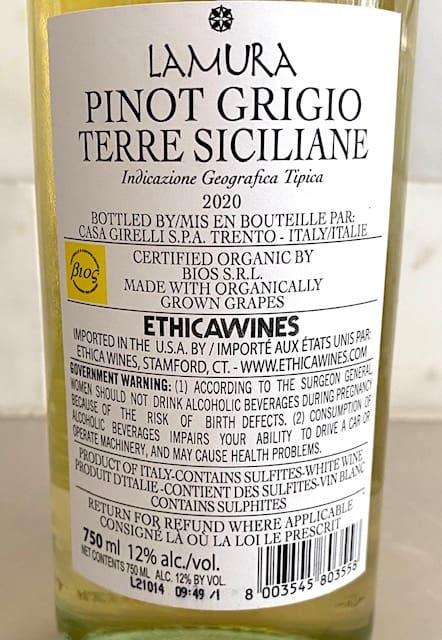 In the glass, the wine pours a pale gold; there's nice citrus fruit aromas on the nose; the wine is medium in body and packed with flavor, mostly green apple, pear and peach; good acidity, crisp in the finish.
This is a perfect summer wine especially if you're heading to the pool or beach, and also a wine you could pair with light summer food including appetizers, salads or fish.
I think if you walked into Costco right now with $30 looking to score some summer wines, you'd do great choosing two bottles of this Pinot Grigio, and two bottles of the just released Kirkland Prosecco Rosé. Bring on summer.
CostcoWineBlog.com Rating: 88 points
Costco item number: 1473660
Alc. 12%
This wine was received as a sample for the purpose of writing this review. All reviews are written at the discretion of the individual reviewer. Opinions of the reviewer do not necessarily reflect those of CostcoWineBlog.com as a whole, and reviewers are not paid for their reviews by wineries or their affiliated distributors. We at CostcoWineBlog.com believe that wine preferences and opinions are often subjective and highly individualistic. Our scores are based on our individual perception of a wine and how well it reflects the area in which the grapes are grown, the expression of the grapes, and also the quality of the finished product. We remind readers that we are 100% independent of Costco Wholesale Corporation, and are simply of a group of Costco wine fans looking to try new wines and share our favorites with this community.