The Napa Red Blend is back, 2019 vintage now, and there are a few changes with this new vintage that readers started pointing out to me last week.
Thankfully, the price is not one of them. This wine is once again priced at $10.99, which is pretty fair for a Napa Valley red blend. Albeit, this wine hasn't always been my favorite, often landing in Tuesday night pizza wine territory for me. But it has been good, just not living up to its full potential, at least in my opinion.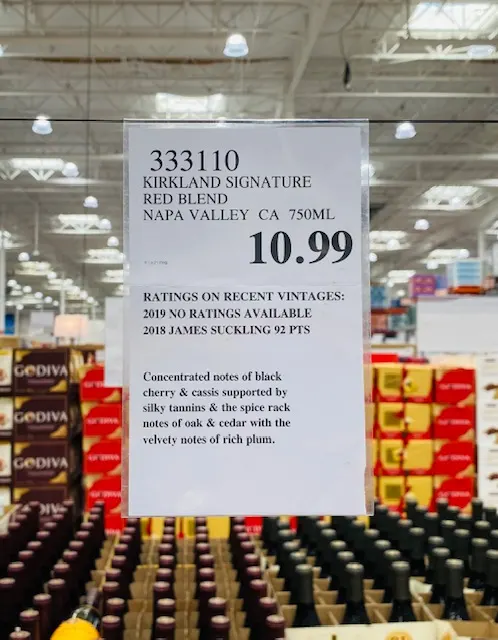 Let's review our scores over the years.
2018 – 86 points
2016 – 86 points
2015 – 86 points
2014 – 86 points (the wine was labeled as a Meritage with this vintage, instead of red blend)
I just now realized the consistent 86 point scores for this one over the years. Thankfully that's going to change.
The blend has always skewed right bank (in Bordeaux speak), more dominant with Merlot. For example, the prior 2018 vintage consisted of 47% Merlot, 44% Cabernet Sauvignon, 4% Cabernet Franc, 3% Petit Verdot and 2% Malbec.
With the new 2019 vintage, the blend went left bank and is Cab driven: 66% Cabernet Sauvignon, 26% Merlot, 3% Petit Verdot, 3% Malbec and 2% Cabernet Franc. Interesting….And note it's still winemaker Glenn Hugo behind the helm.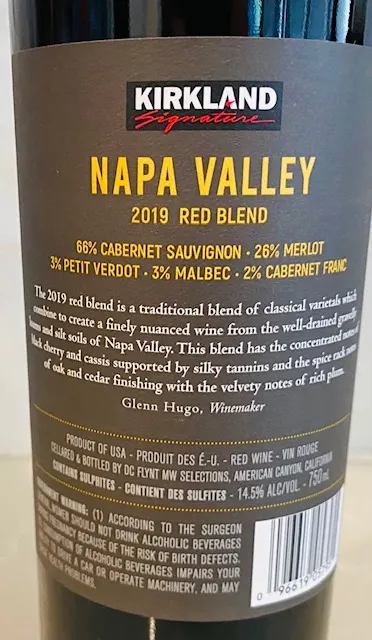 Getting into this 2019 vintage, it really is the classic Napa red blend I hoped this wine would be. A serious step up from prior vintages.
There's a nice contrast of red and dark fruit which I love. This wine has cherry, raspberry, blueberry flavors with black licorice and leather; a strong and lasting finish that is dusty with a little spice. The wine is youthful and ready to drink right now.
The second glass was better than the first. Really the more I dig in here the more I find to like. This isn't a knock your socks off Napa red blend. It's exactly what you want in something around that $10 price range, and it's hard to find many other Napa blends to compare it to.
I'm planning on trying a few more of these to see if my thoughts stay consistent. But I think we have a Kirkland bottle that turned a bit of a corner toward the upside, and that's pretty awesome.
CostcoWineBlog.com Rating: 89 points
Costco item number: 333110
Purchased at Costco in: Atlanta, GA (Kennesaw)
Alc. 14.5%