You'd have to be a long time reader of this blog to remember the last time we found the Chento Malbec at Costco. It was all the way back in July of 2016 when we found the 2012 vintage for $13.89.
The opening line in that review stated, "Massive bargain here. Great wine at a great price." Well now it's back with the 2019 vintage and it is once again an awesome Costco wine find.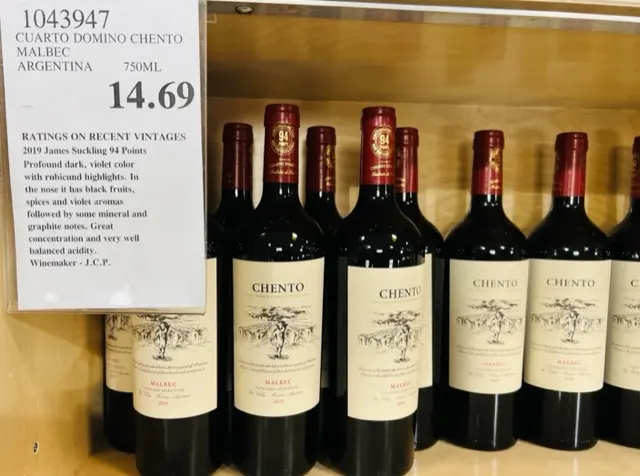 The price has gone up slightly to $14.69, but retail is around $20 so it's still a great bargain. You can jump over to here to Wine.com and see all the 90+ point reviews over the past few years too. Note the 94 points from Suckling proudly displayed not only on the Costco placard but around the band on the bottle's neck.
In the glass the wine pours a dark purple and has earthy dark fruit aromas; it is medium plus body with good acidity; flavors are mostly dark fruit, black cherry, plum, black licorice; really a perfect finish that brings it all together. This is really good juice.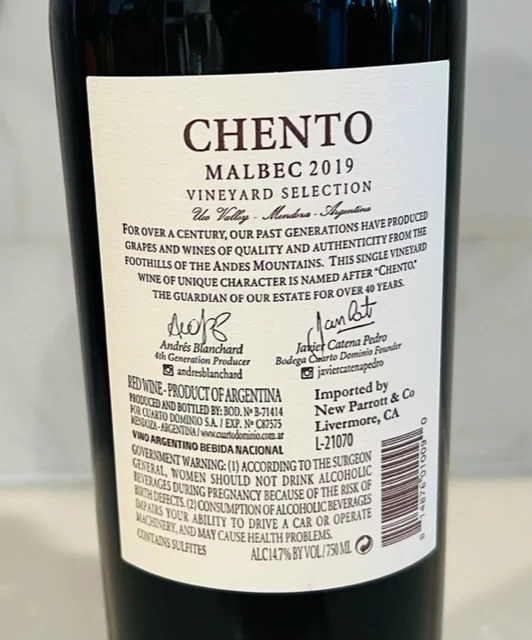 Malbec fans should not pass this one up, and I can see this one selling through fast, so you might want to grab a couple. I hope I see it again to purchase a few more. Cheers.
CostcoWineBlog.com Rating: 91 points (a Costco Wine Top Pick)
Costco item number: 1043947
Purchased at Costco in: Jacksonville, FL (St Johns)
Alc. 14.7%