At the end of last year, we did a feature story where we blind tasted three Pinot Noirs from Willamette Valley Vineyards, all of which are available at select Costco stores. And we really enjoyed them.
Next up is their Rosé which is made from Whole Cluster Pinot Noir. Given their expertise in crafting Pinot as demonstrated by our blind tasting, I was anxious to see how it translated over to a Rosé. And the answer is…quite nicely.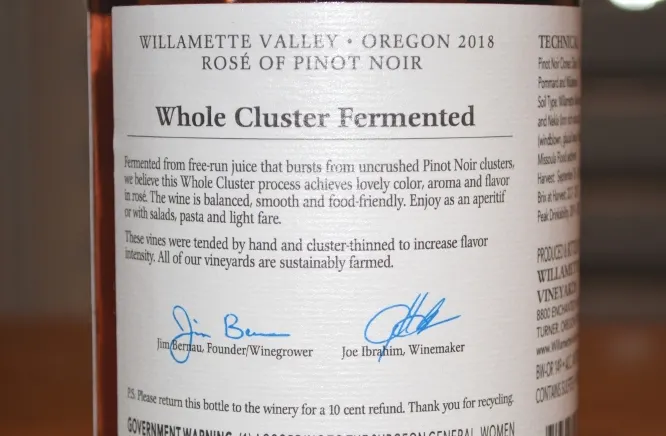 This wine is juicy and fresh; flavors of red fruit, raspberry and strawberry mainly, with tropical notes, grapefruit, all surrounded by crisp acidity, great mouthfeel. This is the kind of wine that keeps you coming back for the next taste.
I'm a big believer that you can drink and enjoy Rosé all year long, but it is really special in the spring time, especially when you're debating between opening a red or a white. Rosé magically lands somewhere in the middle just when you need it. That's how we picked this one out on the day we did, and enjoyed it outside on a perfect Atlanta spring day.
We had a chance to taste the previous vintage that we really enjoyed about equally as well. Wine Enthusiast went 90 points on that vintage (2017) which is pretty impressive. I'm going to come in a point below Wine Enthusiast for this year's vintage, and give it a thumbs up.

​Costco's price is around $15. The retail price for this wine seems to be around $18.
CostcoWineBlog.com Rating: 89 points
Costco item number: 638765
Alc. 13.5%
This wine was received as a sample for the purpose of writing this review. All reviews are written at the discretion of the individual reviewer. Opinions of the reviewer do not necessarily reflect those of CostcoWineBlog.com as a whole, and reviewers are not paid for their reviews by wineries or their affiliated distributors. We at CostcoWineBlog.com believe that wine preferences and opinions are often subjective and highly individualistic. Our scores are based on our individual perception of a wine and how well it reflects the area in which the grapes are grown, the expression of the grapes, and also the quality of the finished product. We remind readers that we are 100% independent of Costco Wholesale Corporation, and are simply of a group of Costco wine fans looking to try new wines and share our favorites with this community.