Willamette Valley Vineyards is one of the largest, if not the largest, producers of Pinot Noir in Oregon. I've been a big fan of the wines I've tried from them, notably the Whole Cluster Pinot that is regularly recognized as a top value buy in Oregon Pinot.
It's also a wine that I listed as a pick in our Thanksgiving wine round up last year.
With several of their wines carried in Costco stores nationwide, we thought it would be fun to group their Pinot Noirs together and conduct a blind tasting with a few other wine fans; that way we could really compare the nuances between the different bottles side by side.
We made the process pretty simple with each person tasting a small pour of each wine with the bottles covered and then we asked them to make notes. I participated in the tasting too, and did so completely blind. The only advantage I had was that I knew which bottles where in the tasting, but had no idea in what order they were poured.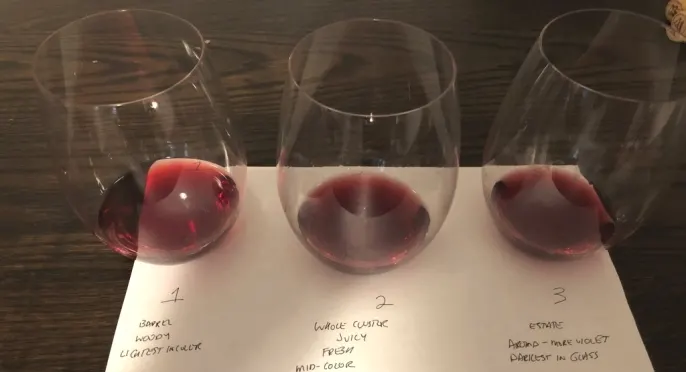 I was also probably the most familiar with Willamette Valley Vineyards' wines in the group, having tasted several vintages of the Whole Cluster before.
The rest of the group was comprised of wine drinkers with moderate knowledge of wine and an appreciation for good Pinot, so I think it made for a pretty fair test from an honest group.
The wines we tasted were:
2017 Willamette Valley Vineyards Barrel Select Pinot Noir
2017 Willamette Valley Vineyards Whole Cluster Pinot Noir
2016 Willamette Valley Vineyards Estate Pinot Noir
The first take away from each participant, myself included was that each wine was enjoyable. We didn't find one that we didn't like, rather we found elements of each of them that we enjoyed perhaps more, and across the group opinions varied pretty widely.
2017 Willamette Valley Vineyards Barrel Select Pinot Noir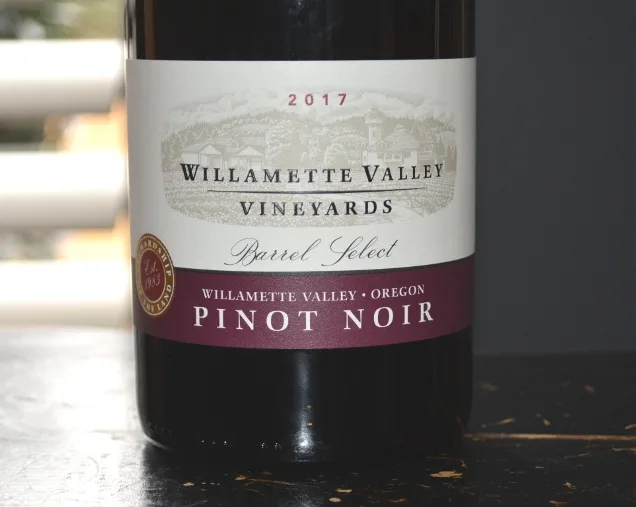 The Barrel Select may have been the most consistent wine of the evening, with participants either finding it to be their favorite or their second favorite.
I found the wine to be the lightest in color, with nice raspberry flavor, a bit of spice and wood with a great finish. The finish on this wine was noted by others too; other comments included "smooth, easy drinking, and goes down fast."
I guessed this wine was the Barrel Select, and it was my second favorite wine of the evening. In my notes, I gave this wine 89-90 points.
2017 Willamette Valley Vineyards Whole Cluster Pinot Noir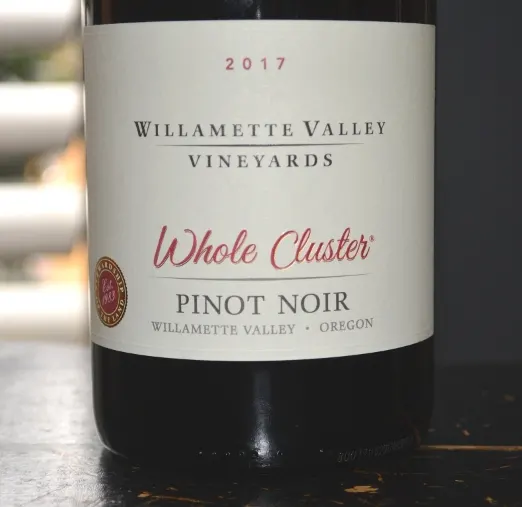 The Whole Cluster Pinot was a big winner too. I was able to guess this one pretty easily since I've tried it several times before, and it is big, fresh and juicy, just like I remembered it.
Several tasters instantly preferred this style and noted the lovely nose, dryness and smoothness. A few tasters found this wine to be "spicy and bold" which was a little different than my notes but worth sharing.
I thought this wine was highly approachable and the easiest drinking of the bunch, something that I feel was confirmed through the group's comments too. It's young and juicy, ready to enjoy now and a nice bottle to throw down on the table with about any cuisine. I gave this wine 88 points, and it was my third favorite.
2016 Willamette Valley Vineyards Estate Pinot Noir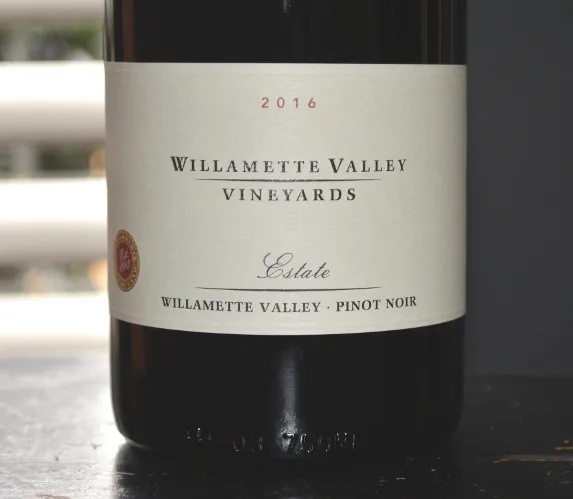 The Estate Pinot was perhaps the wine with the most varied response. Some people, myself included, loved it and it was their favorite of the group. Others enjoyed the wine, but preferred the Barrel Select or Whole Cluster, not always being able to articulate why.
One person commented that it tasted higher in alcohol, but it's only marginally higher than the other two and all of the wines were under 14%. Other comments included "velvety" and there were quite a few remarks around the long finish.
I picked this one out because of its color; it was definitely the darkest on the pour, and the most concentrated; aromas were more intense and there was a hint of violet. I loved the finish which was dry and spicy with black pepper notes and some mild oak. I gave the wine 91 points, and it was my favorite of the night.
Afterwards, we shared what the wines were and poured everyone a glass of their favorite. In the end, among the six participants, it was pretty close among the three wines. The Barrel Select took one vote (but nearly all the votes for second favorite wine), the Whole Custer got two votes and the Estate got three votes.
I don't have all the pricing on these wines at Costco, but here's an idea, along with item numbers that I was able to pull toegher.
Barrel Select. This wine is a Costco exclusive which is pretty cool. I don't have a confirmed price for the latest vintage, but I know that past vintages have sold for around the $17 mark; item numbers are 893523 and 105054. Alc 13.5%
Whole Cluster retail is $24; Costco price is $15.89 and item number: 425537 (such a good buy at that price). Alc 13.5%
Estate Pinot Noir. I don't have a lot of info here but I see retail is $34, so I would assume Costco's price is around $25-$30 and likely on the lower side of that. I'll be keeping me eye out since it's such an enjoyable wine. Alc. 13.9%
Hope you enjoyed this feature. Let us know your thoughts on these wines, or any other Pinots in the comments below or over on the Costco Wine Blog Forums.

This wine was received as a sample for the purpose of writing this review. All reviews are written at the discretion of the individual reviewer. Opinions of the reviewer do not necessarily reflect those of CostcoWineBlog.com as a whole, and reviewers are not paid for their reviews by wineries or their affiliated distributors. We at CostcoWineBlog.com believe that wine preferences and opinions are often subjective and highly individualistic. Our scores are based on our individual perception of a wine and how well it reflects the area in which the grapes are grown, the expression of the grapes, and also the quality of the finished product. We remind readers that we are 100% independent of Costco Wholesale Corporation, and are simply of a group of Costco wine fans looking to try new wines and share our favorites with this community.