Another new label for the Kirkland Malbec; here's the last one; I kind of like them both. I really just wish the juice inside would improve a bit though. This is one Kirkland wine offering that I've never really connected with as much as I hoped.
This is also one of those bottles that's really hard to review, because it's only $6.99. There's not a lot of great wine in that range to compare it to and when you move upstream another $5-$7 dollars, the wines do get much better but now you've doubled the price.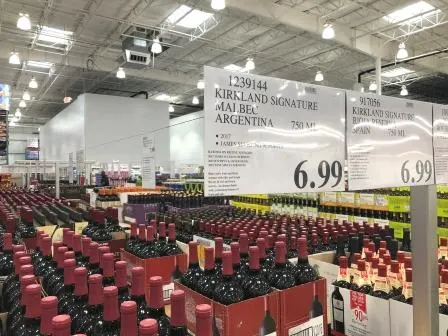 So this new 2017 vintage feels a lot like the previous ones. In fact, my notes on the '15, which is the last we reviewed, are going to be almost identical. This is just a light, very simple, rather weak wine really. And I'm getting a little more sweetness on the finish this year, that's not clicking for me either.
At $7 can you get away with this for an easy mid-week meal to pair with some spaghetti and meatballs? Sure, of course. It's a fair red table wine.

You'll notice on the back of the label the winery is mentioned as Broquel and the winemaker is listed as Sergio Case, who Google will tell you is the head winemaker at Trapiche, so it's pretty clear where this wine came from. I haven't had Trapiche in a while (the Trapiche Broquel Malbec is $12.99 at Total Wine), but have always felt it was a tier below other names like Norton and Catena which are two Malbecs I've always enjoyed.
And they're both available at Costco; sure for a few bucks more, but well worth it. I'm going down a point to 85 from prior years. Just not digging this wine as much as I hoped, and would like to see an improvement in future years.
CostcoWineBlog.com Rating: 85 points
Costco item number: 1239144
Purchased at Costco in: Atlanta, GA
Alc. 13.5%