I was tasked last month with buying wine for a large party that some friends of ours were hosting. Obviously, I turned to Costco since I was looking for high quantity and high value. Plus I was attending the party and wanted people to be happy with the picks, myself included.
So this was the red I chose, with the Catena Malbec being a close second contender. I was looking for something interesting and consistent that could appeal to a wide range of red wine fans. I also didn't want to buy anything too obvious that many attendees would have tried before.
Malbec seemed like a good way to go, and at only $12 at Costco it was a bargain basement price (This wine was $17 on Wine.com but surprisingly only $12 at Total Wine).
Plus this wine was ranked #74 on Wine Spectator's Top 100 of 2016, so if someone didn't like my pick I could always fall back on that (my hosts as well).
Sidebar: I am often asked by readers what Costco wines they should buy for a party that they are hosting. So I will elaborate here on what I bought for this party. Please note though that wine inventory at Costco is always a moving target, so it's super hard to recommend wines that may be in stock one day and gone the next.
My goal (and the hosts' as well) was to have a selection of red, white and Rose wines. They wanted to stay at or below $15 a bottle (because we were buying a lot), and they obviously wanted the wines to be crowd pleasing and widely enjoyable. Totally fair parameters, and just the type of wine challenge I love.
This red worked out great. For a Rose, I went with the Gerard Bertrand Cote des Roses Grenache-Cinsault-Syrah for a number of reasons. First it's a great wine at a great price at Costco. Next, it has an awesome bottle that every one who sees it will stop to look at (and maybe even take a picture of/with). Hands down, solid pick for Rose.
For the white, I wanted to do something a little more interesting, so I went with this Sancerre. I knew this one might be less known to attendees and I wanted them to go a little onto of their comfort zone.
Sancerre is synonymous with good Sauvignon Blanc. When people try it, they typically love it. It's safe and fun, but the challenge remains in getting people to try it. Many did, but it was also the wine we had the most of at the end of the night. (Which is fine by us because we get to keep it).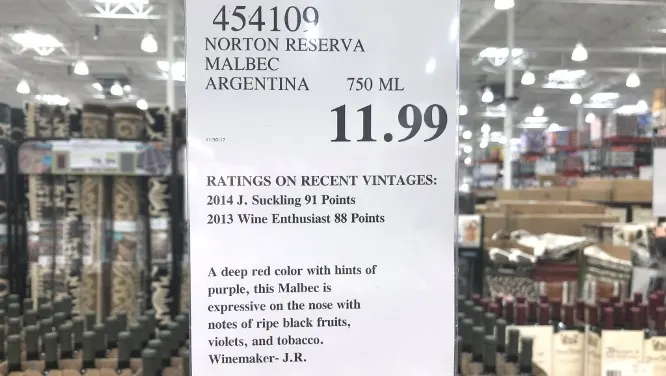 Ok, so that's how we decided to do the party wine picks. Now back to the review of this Norton.
Great stuff for $12. The wine starts with a mix of fruit, oak and vegetal aromas. It's big, rich in the mouth, packed with dark fruit flavor, oak, tobacco and herbs.
This is a great BBQ wine as it will pair perfectly with all types of grilled meat. A nice wine buy here, and of course, a crowd pleaser, in my opinion as we've tested it.
CostcoWineBlog.com Rating: 88 points
Costco item number: 454109
Purchased at Costco in: Atlanta, GA
Alc. 13.5%