We reviewed this wine last year, and it's one that I was excited to see again. A $10 Carneros Pinot Noir is one that I'm not likely to pass up. I compared my photos from the last vintage to the 2017 label, and the two bottles are nearly identical. The only change that I could discern was the vintage and alcohol content.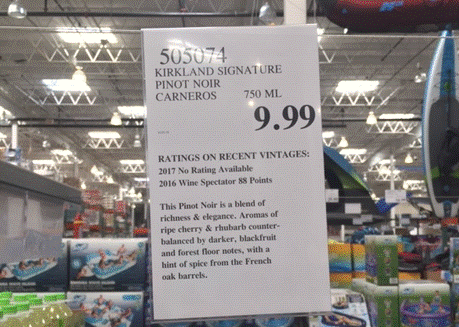 This year's offering has 1% lower alcohol than previous. This may be due to the fact that winemakers had to pick early-ripening grapes like Pinot Noir and Chardonnay sooner than usual on account of apocalyptic wildfires.
Less hang time means lower sugar in the grapes, which translates to less alcohol in the finished wine. In spite of this, the vintage did not suffer quality-wise, and this wine is a testament to that. I personally prefer the lower-alcohol 2017 bottle to last year's.
This wine has a lot of juicy cherry, wild strawberry, and rhubarb flavors with aromas of vanilla and mushroom. Medium-bodied and with a moderate finish, the juice might pass for something twice the price. This is one of the Kirkland wines that I would purchase again for the value (read: hoard).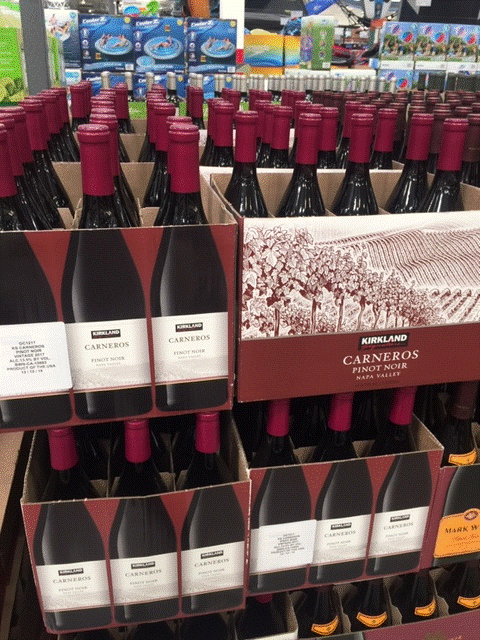 I noticed during a recent visit to one of the busier Costcos in the Atlanta Metro Area that this particular stack of wine was approaching a thin strip of only a few cases.
If you were on the fence about trying this Pinot, sit no longer, for it will be gone soon and we will have to wait until the 2018 vintage is released.
CostcoWineBlog.com Rating: 90 Points (a CostcoWineBlog Top Pick)
Alcohol: 13.5%
Costco Item #: 505074