The final episode of Game of Thrones, arguably the world's most popular series ever, is premiering this Sunday. Perhaps some of you are relieved, tired of scrolling past memes filled with inside jokes, or perhaps you are apathetic about this since you've managed to avoid pop-culture news for the last ten years. But if you're like me, you are both sad and excited for the final episode. I honestly cannot wait to see what happens. It makes me want to throw a party.
What better wine to serve at this party than one with the namesake of the show itself? I am generally fervently against theme wines of any sort, believing that it can give producers an excuse to overprice the juice that's hiding behind the label, but I do respect the marketability of wines that otherwise would be lost in a sea of familiar brands and estates. Who am I to judge the reason that someone buys a wine?
This Central Coast "red wine" has a classy black and gold foil label adorned with a dragon who appears to be torching a city, a Stark Direwolf, Lannister Lion, and a Baratheon Stag amongst other sigils.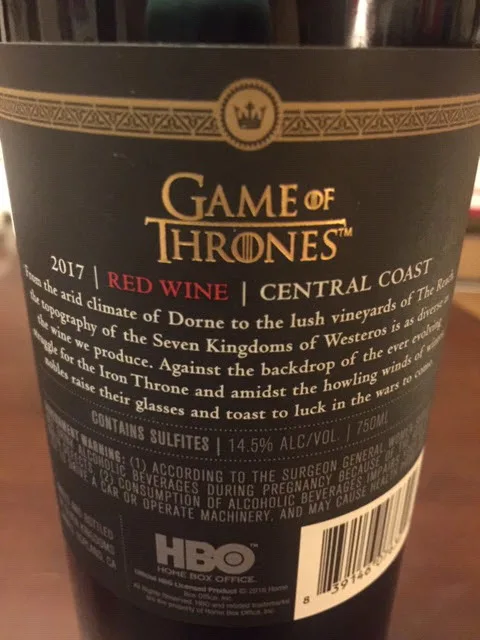 The back label of the bottle gives no descriptors regarding the wine, save an alcohol content, but instead says that the "topography of the Seven Kingdoms of Westeros is as diverse as the wine we produce." "We" refers to Seven Kingdoms Wines out of Hopland California, and after perusing their website, I learned that the wines are made by Bob Cabral who previously worked for Williams Selyem Estate Vineyard and aimed to "craft wines to match the strength, the characters, and the terrain of their kingdoms."
This red is a blend of six different varietals, with Petite Sirah and Zinfandel comprising a majority. These two grapes tend to make wines that are dark, tannic, and juicy. This wine was no exception. In the glass it is nearly opaque, and there are lots of ripe dark fruits on the nose like plums and blueberries.
I also got notes of vanilla and baking spice, and the palate has a lingering essence of dark chocolate. While the wine is fruit-forward, it is pleasantly dry and well-structured. I would describe the wine as muscular, which I can imagine Mr. Cabral was aiming for.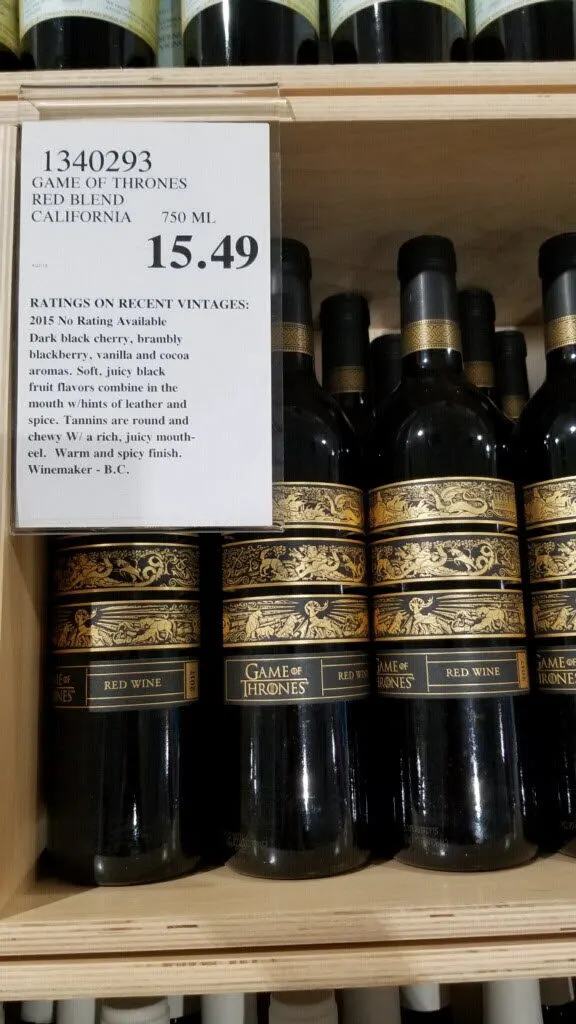 The wine retails online and in local retailers for around $19.99 per bottle. My local Costco is currently carrying it for $15.49, so about 25% less. While the wine is not something that I would necessarily go out of my way to purchase, I do feel that the price is fair given the quality of the juice.
If you like bold and fruit-forward reds with noticeable structure, this will not disappoint. Grab a bottle for the upcoming series finale and toast to the final ruler of the Seven Kingdoms!
CostcoWineBlog.com Rating: 88 Points
Alcohol: 14.5%
Costco Item Number: 1340293