Here's a super tasty Chablis that comes in at a great Costco price of only $16.99, making it among the lowest priced Chablis that we've seen in the warehouse. And best of all, it doesn't skimp on quality.
This is the little sister to the Domaine Thierry Mothe Grand Cru Chablis that we reviewed a few months ago (2016 vintage), and rated a solid 90 points. That wine is priced almost twice as much, and is certainly worth it for big time Chablis fans.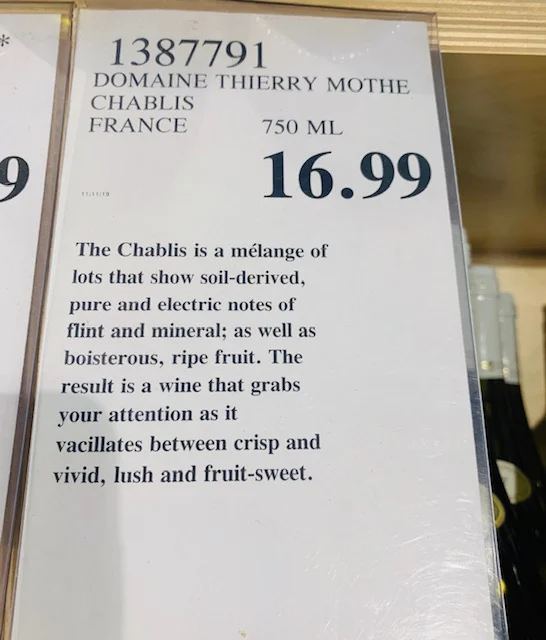 This more "standard" Chablis is a great choice for every type of Chardonnay, and white wine fan for that matter, given the clean and pure nature of this wine. It's fermented in stainless steel so the purity of the fruit is what really shines through; it's not clouded in oak and butter, which I always find a turn off.
I found this one to taste similar to the Grand Cru, but a little more reserved, and less concentrated in the fruit. It makes this bottle a good, more everyday buy and the Grand Cru a nice step up.
Similar tasting notes between the two, with a citrus nose, mineral notes and flavors of green apple, lime, and pineapple. I found a bit of caramel apple too towards the finish. Again, super clean and fruit forward, which will appeal to Sauvignon Blanc lovers as much as buyers of un-oaked Chardonnay.
I love the versatility of this bottle too, as you can pair with virtually anything. A nice one to have around for the holidays. I'm a fan, and will give it a solid 88 points, just two points below the Grand Cru.
CostcoWineBlog.com Rating: 88 points
Costco item number: 1387791
Alc. 12.5%
This wine was received as a sample for the purpose of writing this review. All reviews are written at the discretion of the individual reviewer. Opinions of the reviewer do not necessarily reflect those of CostcoWineBlog.com as a whole, and reviewers are not paid for their reviews by wineries or their affiliated distributors. We at CostcoWineBlog.com believe that wine preferences and opinions are often subjective and highly individualistic. Our scores are based on our individual perception of a wine and how well it reflects the area in which the grapes are grown, the expression of the grapes, and also the quality of the finished product. We remind readers that we are 100% independent of Costco Wholesale Corporation, and are simply of a group of Costco wine fans looking to try new wines and share our favorites with this community.