We heard from readers a week ago that the 2016 vintage of the Kirkland Barolo was showing up in stores, and that was music to our ears.
The 2015 vintage, which came out exactly a year ago, was the inaugural vintage of this new Kirkland wine, and we welcomed it with open arms.
The price then was $19.99 and the wine was delicious, earning an easy 92 point rating from us. I think this is one of those rare instances where our scores align with wine pro James Suckling, who according to the Costco placard, awarded both the 2015 and 2016 vintage 92 points.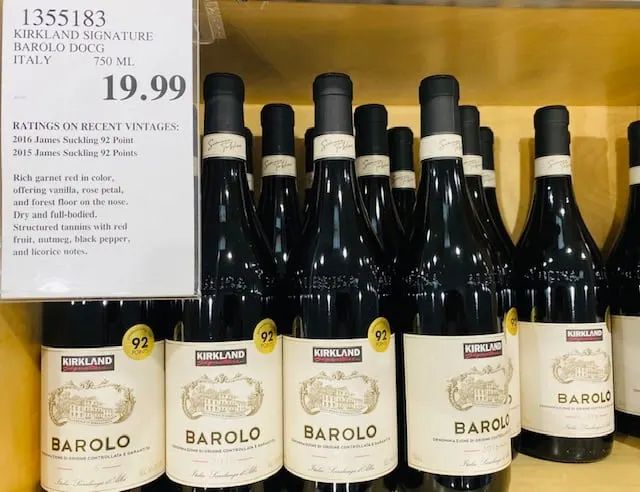 The first question with the arrival of the new vintage was whether the price would increase. Happily, it did not, staying strong at $19.99 which is a steal for a Barolo of this caliber.
I wrote this year's tasting notes without reviewing my notes on the '15, and they turned out almost identical. Both '15 and '16 were strong vintages for Barolo, and both bottles are an excellent expression of them. If you enjoyed the previous vintage, I imagine you will love this one as well.
This wine pours a pale garnet in the glass, lightly see through; juicy cherry on nose with flavors of earthy black cherry in the mouth along with notes of anise; some toast and vanilla into the finish. The wine is medium plus to full in body, and finishes dusty, dry and lingering.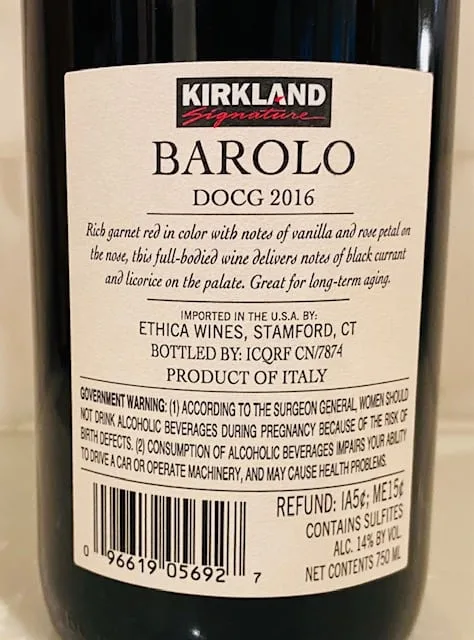 The first word that came to mind after I finished my first glass was "exquisite." This is a really an excellent wine and amazing at this price. There's good aging potential here too so I might try to pop one in the cellar for a Cellar Series write up down the line. I think it will be interesting to taste again in 5-10 years.
My rating is staying the same at 92 points, and obviously this will appear on our Top Picks list. You might want to scoop up a few of these while you have the chance, as they might move pretty fast.
CostcoWineBlog.com Rating: 92 points (a Costco Wine Top Pick)
Costco item number: 1355183
Purchased at Costco in: Atlanta, GA (Kennesaw)
Alc. 14%
NOTE: in case you missed it, and if you love Kirkland wines like this Barolo, don't miss our recently updated mega-story, The Definitive Guide To Costco's Kirkland Signature Wines.
NOTE 2: if you love Italian wines and want a quick, fun, easy to read and super informative guide to Italian wine regions, varietals and wine-making practices, don't miss our book: Decoding Italian Wine.