I noticed quite a few bottles of Zinfandel at my Costco on my last visit. Among those that were in stock are the fabulous Seghesio and the super budget friendly Artezin, which we need to review the current vintage of. But I ended up with the Cline Ancient Vines Zin to see what it was all about.
The price was $11.99 which is the same as the Artezin, and less than Seghesio which is around $20 at most Costcos. What attracted me to the Cline was the 91 point Wine Spectator score, and the fact that this bottle was #40 on Wine Spectator's list of the Top 100 wines of 2018.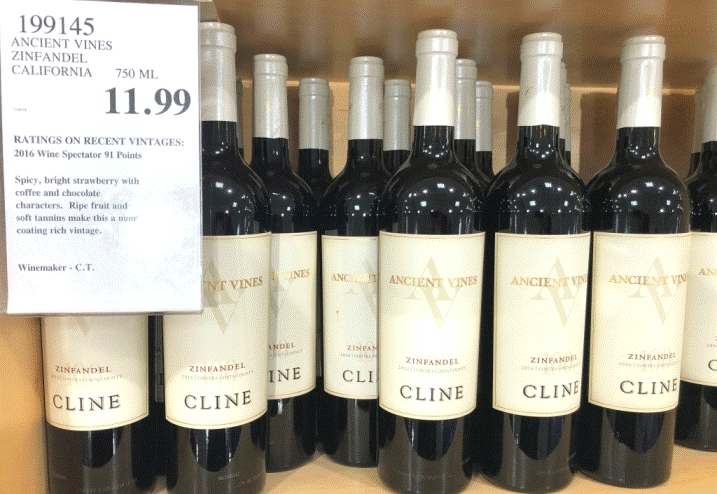 The wine was really fresh and juicy right on the pour, with aromatics of baking spice, clove and espresso. I picked up more dark fruit flavor than the notes I found from other reviewers; blueberry, blackberry, backed with vanilla. There's a lot going on with this wine.
It's huge in the mouth, youthful, and just coats the mouth and hangs on. I'd say it's a big winner for hard core CA Zinfandel fans. I enjoyed the wine, and can see it's appeal, but it was a bit big overall for my tastes; I prefer the subtleness and finesse that a wine like the Seghesio brings.
The wine has high alcohol at 15%, and it did seem to linger in the mouth after each drink. This is a wine to pair with BBQ, pork ribs or as we did, beef short ribs; spicy pasta or lamb would be a good choice too. The wine does good with a hearty meal to stand up to its size.
I'd like to see a little better price on this bottle from Costco. It's available right around Costco's $12 price tag from virtually everywhere else I looked. Still a nice wine for the money, but it'd be even better for under $10.
CostcoWineBlog.com Rating: 88 points
Costco item number: 199145
Purchased at Costco in: Atlanta, GA
Alc. 15%