This Zinfandel has been in the wood boxes at Costco for a decent amount of time, and mostly overlooked by myself. I tried the 2013 Artezin and was neither disappointed nor impressed, and so when I saw the 2014s (and subsequent 2015s) arrive, I was apathetic about it. Here, folks, is a classic example of why you should never assume that one wine vintage is the same as the next.
When the 2014 Artezin OVZ from Mendocino showed up on Wine Enthusiast's Editor's Choice list with a healthy score of 92 points, my curiosity was piqued. Wine Spectator's Red Zinfandel reviewer, Tim Fish, rated the 2014 vintage higher than the '13 (an 88 compared to 86), and so I felt that this was compelling enough evidence to try this wine again.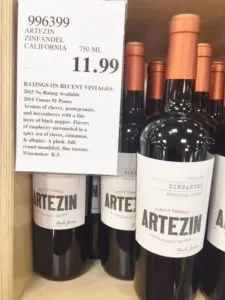 For me, the 2013 vintage was too-much white pepper & spice and not-enough sweet fruit jam that I like and look for in Zinfandel. I could tell by the ripe berry and Saigon cinnamon nose of the 2014 that it would not follow suite.
I was pleasantly surprised at the fresh and juicy palate of this medium-bodied wine, well-balanced in acidity to sugar with strawberry fruit leather and friendly tannins. For the $11.99 that I paid for this bottle, I would definitely designate this wine as a Great Value. I prefer it to other Zinfandels that I've had in the $20 range. I think it would go really well with a Spring BBQ or burgers on the grill. At most clubs that I've visited lately, both the 2014 & 2015 vintages are available. Some still have 2013s as well. If you are a red zin fan, I recommend picking up a '14 before the vintage is sold out. I give this wine a 90.
Purchased in Cumming, GA
ABV: 14.5%
CostcoWineBlog.com Rating: 90 points & Great Value
Costco SKU #: 996399